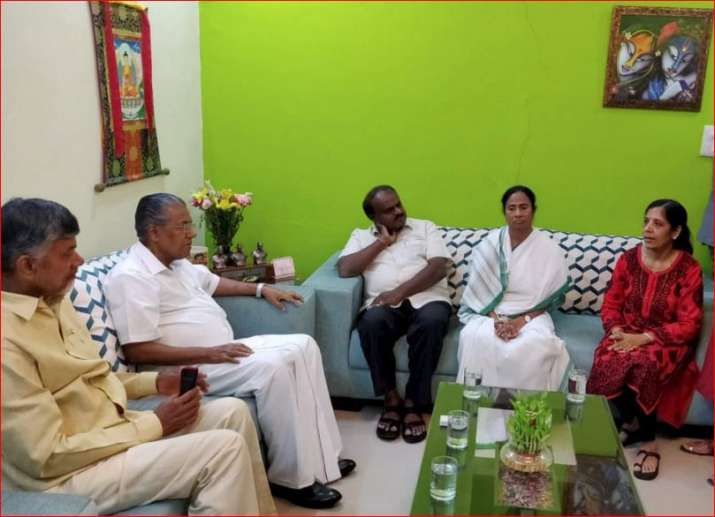 The chief ministers of four non-BJP ruled states on Saturday visited the residence of Delhi CM Arvind Kejriwal, who is staging a dharna inside the waiting room of LG Anil Baijal's residence for last six days, and expressed solidarity with him.
The four chief ministers- Mamata Banerejee(West Bengal), H D Kumaraswamy (Karnataka), Pinarayi Vijayan (Kerala) and N Chandrababu Naidu (Andhra Pradesh)-  also wrote to Lieutenant Governor Anil Baijal seeking an appointment with him for making a representation on the issues concerning the sit-in.
After meeting Kejriwal's family members, the four chief ministers addressed media persons and asked Prime minister Narendra Modi to intervene in the matter and resolve it.
West Bengal Chief Minister Mamata Banerjee said that there is a "consitutitional crisis" in Delhi.
She also added that people should not suffer due to any political crisis brought about by any political party.
Seeking PM Modi's intervention in the matter, Mamata Banerjee said, "We will tell the PM to intervene in this matter and solve it. Had the President been here, we would have told him too. This is a democracy and that is how a democracy functions."
Expressing solidarity with Kejriwal, Karnataka CM HD Kumaraswamy said, "We came here to show our support to Delhi CM. We demand that the Prime Minister interferes in this issue & takes necessary steps to solve this problem."
Accusing the central government of trying to restrict the federal structure of the country, Kerala CM P Vijayan said that people of the entire country were standing with Kejriwal.
"Because of the attitude of Central govt this happened. Centre is restricting the federal system which is a threat to the nation. Everyone is with him (Delhi CM). All the democratic people are with Delhi CM," he said.
Supporting the stand of Kejriwal, Andhra Pradesh CM N Chandrababu Naidu said that the LG has to allow Delhi govt to function.
"We came here to express our support to Delhi CM. The LG has to allow this govt to function. Mamata Ji had asked permission from the LG to see the CM to which there was no response," he said.
Earlier, Delhi's ruling Aam Aadmi Party (AAP) alleged that Lt Governor Anil Baijal denied permission to West Bengal Chief Minister Mamata Banerjee for meeting her Delhi counterpart Arvind Kejriwal.
"Permission denied by LG. Extremely sad state of affairs," Aam Aadmi Party (AAP) leader Raghav Chadha tweeted.
Reacting to the denial of permission to Mamata Banerjee, Kejriwal alleged that the LG was acting under instructions of the Prime Minister's Office (PMO).
Kejriwal accompanied by his deputy Manish Sisodia and ministers Satyendar Jain and Gopal Rai is on a dharna at the LG's office, demanding that Baijal direct IAS officers to end the "strike".
The four chief ministers are in Delhi to attend NITI Aayog meeting to be held on Sunday.
Watch: Mamata seeks PM Modi's intervention to end Kejriwal's dharna