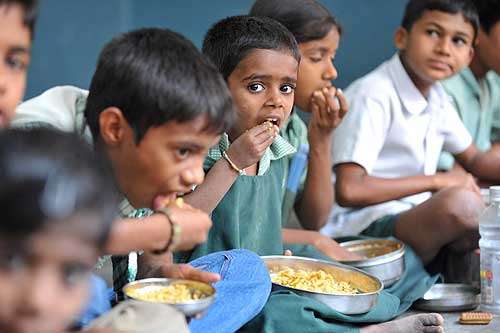 With the government's biometric-based unique Aadhaar identity gaining credibility and mass each passing day, the project received some more acknowledgement after it helped states remove 4.4 lakh "ghost students" from schools across Jharkhand, Manipur and Andhra Pradesh, for whom the government had been allotting funds under the mid-day meal scheme. 
According to a Hindustan Times report, the data for 2015-16 and 2016-17 shared by the three states with the HRD ministry revealed that several government schools in these states had been showing non-existing students on their rolls to claim additional funds for the mid-day meal scheme allocation. 
For instance, Andhra Pradesh – which linked all its 29 lakh government school students to Aadhaar – had 2.1 lakh claimants who existed only on paper. Their enrolment was cancelled after the anomaly was brought to the government's notice. 
Earlie this month, the HRD ministry had made the Aadhaar number mandatory for students to obtain mid-day meals. The move received strong criticism from activists, who claimed that it would result in many beneficiaries being excluded from the child nutrition scheme.
"We are still in the process of collating data from states, but available figures show fake enrolment of students in government schools. The number of fake students may go up further once all the states share data," and HRD official was quoted by Hindustan Times as saying. 
In Jharkhand, the names of 2.2 lakh non-existent students have been deleted from school records. So far, 89 per cent of the 48 lakh students enrolled in the state's government schools have availed of Aadhaar numbers. 
Speaking on the issue, Union HRD Minister Prakash Javadekar has assured that genuine students will not be denied mid-day meal and will also be given Aadhaar card. 
No genuine student will be denied mid-day meal; will give meals & also Aadhaar cards to students: Prakash Javdekar, Union HRD Minister pic.twitter.com/ek76vpRCBK

— ANI (@ANI) March 27, 2017
Of the 13.16 crore children enrolled in 11.5 lakh schools across India, as many as 10.03 crore students availed of mid-day meals in 2015-16.'
"We are yet to calculate the money saved through the elimination of fake beneficiaries," said an HRD ministry official.