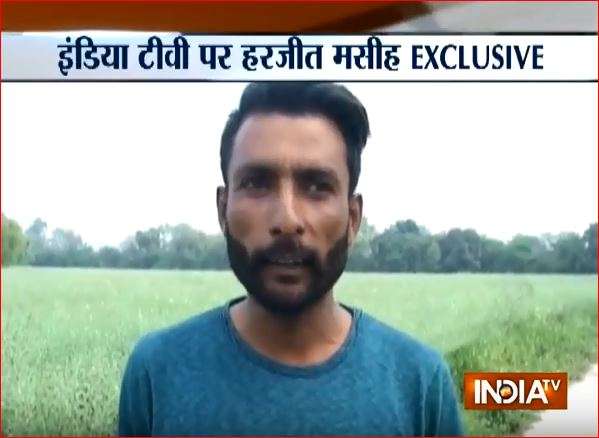 Harjit Masih felt vindicated after External Affairs Minister Sushma Swaraj confirmed in Parliament the killing of 39 abducted Indians by ISIS in Iraq.
Masih was one of the 40 Indian workers taken hostage by ISIS when the dreaded terrorist organisation overran Iraq's second largest city Mosul in 2014. He had managed to escape and claims to have witnessed the massacre of the remaining 39 Indians.
Harjit Masih now rues the fact that he was saying the same thing for last three years, but the government rejected his version and questioned his creditability. 
However, Indian government has asserted that it could not confirm the Masih's claims as it was not supported by the corroborative evidences.
"His was a cock-and-bull story," Sushma Swaraj said adding he had managed to flee the ISIS by faking his identity as a Muslim from Bangladesh.
Masih shared with fountaininjk the inside account of what actually happened on that "fateful day". 
He narrates how the terrorist organisation abducted the stranded Indian and Bangladeshi workers on June 12 in the name of ensuring their freedom, released the Bangladeshis purportedly because they were Muslims and killed 39 Indians, mostly Hindus and Sikhs, in cold blood in front of his eyes.
According to Mesih, on June 15, at about 4 p.m., the militants ordered the Indians and Bangladeshis to get into separate groups.
"We have the Indian passports; the Bangladeshi passports will arrive later. The Indians must come with us," they said.
A truck with large container was waiting for them outside. Masih says he saw a small blindfolded man with hands tied behind his back when he boarded the truck.
The truck began its journey and according to Mesih,  it was swerving from left to right, going over uneven terrain, up and down small slopes.
The truck stopped half an hour later in the desert that surrounded Mosul, with hills in the backdrop.
There were about 10 trucks with 30-40 militants outside, according to Mesih.
"What have you come to do here in Iraq?" barked a man in an ISIS uniform. Nobody responded.
"Get in line," he thundered.
According to Mesih, it was this order that made Masih realise what was going on.
 "Ab to hamara kaam hone wala hai (This is the end for us)," he told fountainink recalling his thinking at that time.
According to Mesih, the men began to cry, they joined their hands together and begged for freedom.
However, nobody listened to them. They were ordered to kneel on the ground. They pleaded some more.
"Please let us go, please. We will become Muslims," someone said, according to Mesih.
Masih revealed that he was in the middle of the line; to his left was Samal from West Bengal and to his right was the heaviest man in the group and one of the oldest, Balwant Rai Singh from Punjab. The fighters talked among themselves standing behind the kneeling Indians.
Two men stood in front: one was the man from the container whose blindfold had been removed, the other was an ISIS militant who was holding a camera.
According to Mesih, they shouted "Allah-o-Akbar" and opened fire on the Indian workers.
Mesih recalled how Samal, standing left to him, dropped to the ground, in spite of the firing starting from the right.
Masih followed him and buried his face in the gravelly sand without making any movement.
Seconds later, Balwant Rai Singh also fell on him, pressing him deeper into the ground. 
With the weight of a dead man on him, Mesih was unable to move.
 "One bullet grazed me. I didn't breathe, didn't move, didn't look up. I just lay there," Masih told fountainink. 
According to Mesih, the firing lasted for about a minute and a half and that he couldn't hear a thing once it stopped. He lay on the ground for about 20 minutes, playing dead and unable to move because of the weight of Balwant Rai Singh's body.
"I couldn't recognise people's faces. I couldn't make sense of a thing," Mesih said.
He saw a man lying flat on the ground with his eyes open looking up into the cloudless sky.
 
The man was alive but he had bullet holes all over him. He was covered in blood.
"Can you walk?" asked Masih. He waved his hands, gesturing no.
"I joined my hands together and said, 'Sorry, but I have to go'," Masih said before leaving the place.
This is how Masih, who belongs to Gurdaspur in Punjab, escaped the massacre. 
Watch Video: 39 Indians shot dead by ISIS in Iraq 3 years ago, claims Harjit Masih