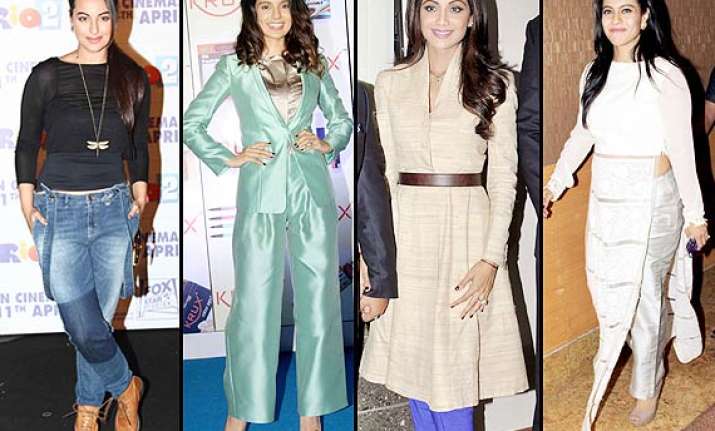 And here we come again with all our sharp eyes and a demeanour to inspect this week's fashion disasters.
Fashion and style seemed rocking this week with our Bollywood divas spraying the charm of their ecstatic beauties in various promotional campaigns, celebrity events and at launches too.
While this time too, we have gorgeous Shilpa Shetty and graceful Kajol again in our list of fashion criminals, hot
Kangana Ranaut
too has unfortunately managed to grab a space. One of the novel bubbly pretty face of Bollywood, Aditi Rao Hyadri also lies in this week's list and we think, she needs to carve her own sense of fashion soon!
Bollywood's Rajjo, who seemed in a much well toned body now failed to impress this week and emerged doing blunder with her look.
We wonder how long would these actresses stay in our list of worst dressed B'town divas as even we are tired now seeing Kajol, Kangana, Shilpa repeating their fashion faux pas so many times in a row.
All thanks to these eternal beauties, we present you a list of Bollywood ladies who went wrong with their style pick-ups this week. Take a look and see it yourself!
Kajol arrived to cheer friend and designer Manish Malhotra at the Mijwan 2014, wearing one of the designer's fresh creations.
Though the dress is fine, provided it owuld have worn by someone else and not by Kajol. The fit of those pants is extremely absurd. And her beautiful tresses too are looking unkempt and quite unflattered.
We just now want to get rid of her fashion blunders next time!
Wearing a fresh from the recent 'Jade' collection gown at Lakme India Fashion week, Aditi graced the Femina Miss India pageant.

We have no complaints with her make up and style but the dress looked little abruptly fitted over the actress.

Plus, to add to the bad look was her posing sans that confidence! It also appeared that Aditi had to struggle a lot carrying the gown since it seemed to have length issues and yes we noticed that not-so-flattering gown trail too!
At the launch of Krux, Kangana wore this perfectly 'not acceptable' outfit. Though with that all time slender figure Kangana can carry everything with uber charisma and allure, this dress was doing otherwise.

Wearing such a weird colour and that completely ill fitted ensemble, Kangana accompanied the look with those nude coloured platform footwear.

And we are so sorry to say that nothing worked here, neither the dress, not the choice of styling!
Wearing a Neeta Lulla creation, Shilpa Shetty launched her own line of jewelry showroom. Though with that splendid frame and sexy persona, Shilpa can pull of everything much ease and flair, this time it wasn't so.

As you scroll eyes down from her usual volumnous hair, you would see and feel tacky for those seemingly blue pants.

And as when you go  a little more down, you would see a pair of grey inescapable footwear. 
Sonakshi, this week remained busy at various public events and launches. So much engraved in work, mistakes were bound to happen but can she afford blunders in terms of fashion...let her decide!

Well, at Mijwan 2014, she wore a Manish Malhotra's beautiful creation but sported a rather flat hair do and yes the make up too was doing nothing for the look.

At the promotional event of Rio 2, Hindi version, for whom she has lend her voice along with Imran Khan, Sonakshi tried and dressed casually.

But, as you can see, she has fallen flat on fashion radar this time too. Just a question, what was the need of those suspenders with those overall and yes, that extra tight top!