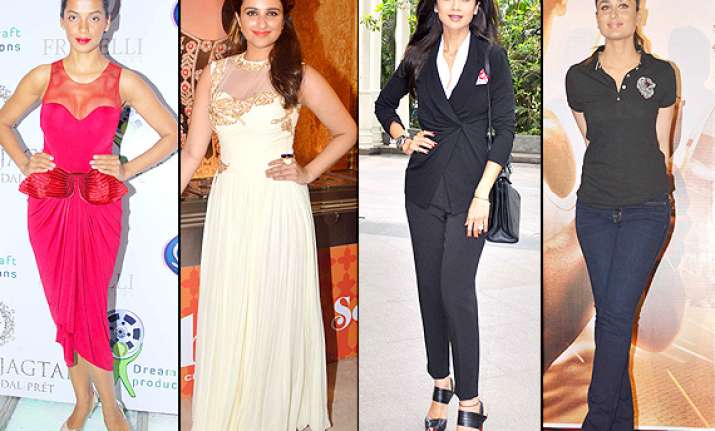 New Delhi: Bollywood divas never escape any chance looking perfectly stunning and stylish, be it at any award function, a launch or a promotional event.
But, a few narrowly get to miss touching the style radar and fall flat with the choices of either their outfits or the styling.
And we turn whole heartedly speechless when such blunders are carried on by style icon themselves.
This week too, with the launch of various anticipated films and various other public events, our Bollywood babes kept the style alive with their mesmerizing presence. But, what we spotted made us thoroughly disappointed.
In this week's list of worst dressed Bollywood divas, uber fashionistas such as Kareena Kapoor Khan, Shilpa Shetty and Parineeti Chopra find their place.
Kareena Kapoor Khan launched the first trailer of her upcoming 'Singham Returns.' Agreed that she had to maintain the 'dress code' by wearing that black Singham t-shirt; but what on Earth forced her to accompany those YSL Tribute Sandals!
No doubt those sandals are a clear winner in themselves, but wearing them with a t-shirt and dark denims actually kill the purpose.
Shilpa Shetty, who launched the new collection of her jewellery line, opted for an over-the-top formal look. She went for a black and white look with that weird pocket square taking out more from the look.
And we are still struggling to find why she kept her voluminous tresses open!
Parineeti Chopra, who kick started her public appearance for her upcoming 'Daawat-e-Ishq' chose 'Diva'ni' collection.
Though she pulled off the dress, the outfit in itself had many glitches. Her dark make-up and those stark coral lips made the look worse.
Mudha Godse, who actually rocks her dusky charm with much grace couldn't impress this week. She went for an Amit Aggarwal creation; the one that accentuated her toned frame but didn't complement her olive skin tone.
And completing the look with those dark red lips wasn't a good decision!