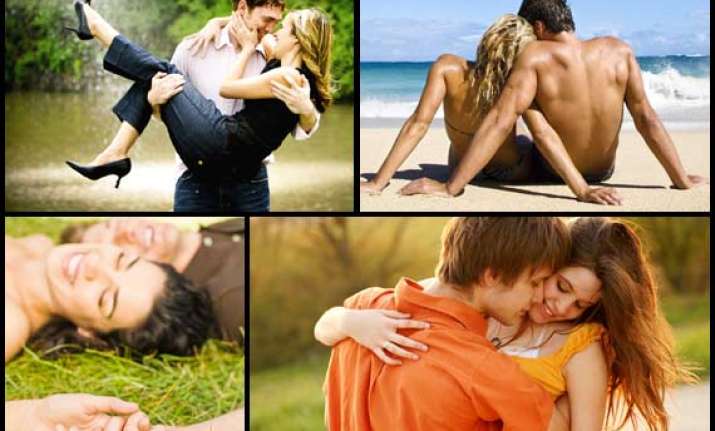 Kajal and Navneet Oberoi have been happily married for nine years but this Valentine's Day on their tenth wedding anniversary, they are headed for a romantic retreat in Pattaya, sprucing up their love life by renewing their wedding vows.
"It was my dream to have a beachside wedding and now is the time to live it. It is a very romantic gesture and I think these things help keep the fire burning in your relationship," Kajal Oberoi, 36, a chartered accountant, told IANS.
From a candlelight dinner on a beach in Pattaya to an adventure walk in the hills of Uttarakhand, there are options galore for those seeking a dreamy Valentine vacation with their partner this Feb 14.
For those like Kajal Oberoi, the Amari Pattaya resort in Thailand is offering a 'just the two of us' package for couples starting at Rs. 30,500 for three nights and four days in an ocean-view room.
The couple can indulge in the romantic seaside experience with the resort offering a candlelight dinner, spa floral bath and other surprises.
At Rs. 6,299, travel portal MakeMyTrip offers a getaway with a French flavour in Puducherry that includes a walk through the former French colony followed by boating in the backwaters.
The hills of Uttarakhand and Himachal Pradesh beckon those seeking to spend placid, laid-back time with their partner.
V Resorts offer two packages a stay in the quaint cottages in Narkanda, Himachal Pradesh, or on a hilltop in Sattal, Uttarakhand. As an added attraction, every couple also gets a complimentary cake on Valentines' Day.
"We offer romantic candle-lit dinners under the stars, adventure walks with your beloved, guided treks, bonfire evenings and an array of unwinding activities to spruce up your romance," Aditi Balbir, co-founder, V Resorts. The package starts Rs.7,500 (per couple), told IANS.
The various surveys too indicate that a majority of couples struck by cupid prefer a vacation either on the beach or in the hills.
As per TripAdvisor, a travel site that offers holiday advice for travellers from around the world, a beach holiday is an ideal romantic choice for 34 percent of the respondents, closely followed by hill stations at 32 percent.
Delighted by the terrific rise in the number of couples undertaking a Valentine vacation, industry experts are optimistic that the numbers will keep on rising further.
"There is a definite rise in the number (of travellers). In the last five years the growth has been around 30 percent and will surely rise further," explained Sharat Dhall, president of leading travel portal Yatra.com.
According to Dhall, the majority of the travellers are in the age group of early 20's to early 30's with no kids.
The average holiday budget begins at Rs.10,000-20,000 per couple and goes up to Rs.40,000-Rs.60,000 depending on the destination.
Another reason for the rise in bookings is the fact that Feb 14 is a Friday followed by Saturday and Sunday and many couples are clubbing the three days together, making it an extended weekend.
"We are witnessing an increased demand for long weekend travel during this period. So far there has been a 15-25 percent increase in bookings and we expect further increase over the next couple of days," said Mohit Gupta, Chief Business Officer-Holidays, MakeMyTrip.