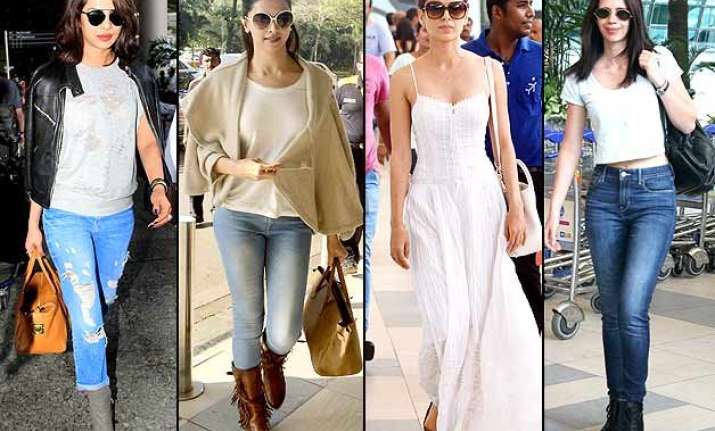 Follow smart travel beauty tips
New Delhi
: Whether you are travelling on ground or thousands of feet up in the air, you can look good! You just need to follow a few travel
beauty
survival tips.
Makeup artist Kanikka Gauraav Tandon suggests how:
1. Go with a moisturiser: Apply heavier moisturiser a day before you are going to travel. This will help in maintaining hydration in your skin before you are exposed to dehydrating effects of cabin pressure or air conditioner effects.
2. Tie high: Tie a high pony or a high bun to combat bad hair at the end of the long flight. And make sure to carry a wide tooth hair brush always.
3. Drizzle with mineral water: To give a touch up while travelling, never add extra foundation or blush, instead drizzle mineral water and add a bit of moisturiser.
4. Pick nude colours: Avoid bright coloured nail polish while travelling as it chips too easily and gives an unfinished look. Instead, go for neutral, sheer colour or a nude hue that won't call for attention even if it chips.
5. Take your cleanser: If you can carry just a single skin care item from home, go for your cleanser as change in cleansers can abrupt skin's acid balance and results in breakout.
6. Keep hands away from face: To avoid breakouts, make sure not to touch your skin while travelling as your hands carry numerous bacteria resulting in many skin problems. Use anti-bacterial hand wash before applying makeup.
7. A big no to eye makeup: Avoid mascara and creamy eye shadows. People often take a nap while travelling, so these might trail down to cheeks.
8. Don't stick to lipstick: People prefer using long lasting lipstick, but this really dehydrates your lips and so as to have an escape go for lip gloss. Re-apply the gloss throughout the trip and your lips will look fresh.