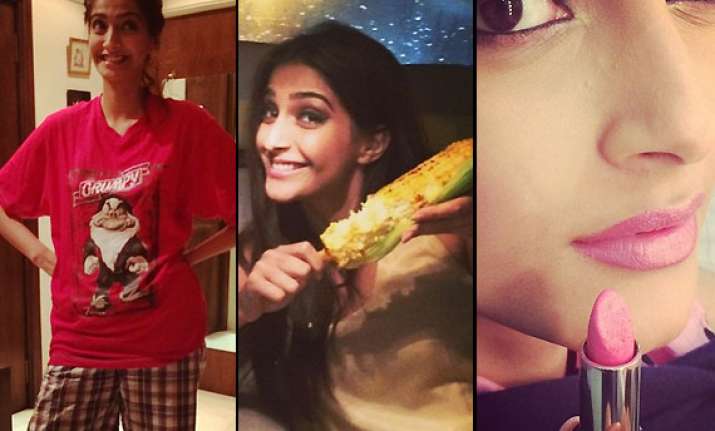 Bollywood's very own style icon Sonam Kapoor surely is a diva in every season. And as Mumbai got hit with monsoon rains, the actress shows off her love for a corncob and her fav colour this season.
Currently busy with her upcoming project Khoobsurat opposite Pakistani actor Fawad Afzal Khan, Sonam is nowhere stopping to enjoy the rains.
In her recently shared pics on Instagram, the actress could be seen showing her fans her preparations for the ongoing season.
Lately the actress had been dropping hints about revealing her favourite colour of the season 'pink' to her fans and followers. She shared three pics, one of which clearly put on show her dressed all of which were in pink and the recent one being where she poses with her L'Oreal lipstick (no points for guessing...it is pink too).
She wrote a caption along with it, which says "@namratasoni is using cherry crush moist matte @lorealparisin !! My fave colour this season"
In the second pic she could be seen enjoying her corncob as she sits in her car while Mumbai rains flood the streets. She captioned this pic , "<3 Butta!"
Last month she posted another pic in which she was seen wearing a casual bright pink tee with checkered shorts as she prepped up for "#fashiondiaries grumpy or not? #disney pj party"
Well we guess Sonam Kapoor is all prepped up to welcome the monsoon and enjoy it too!