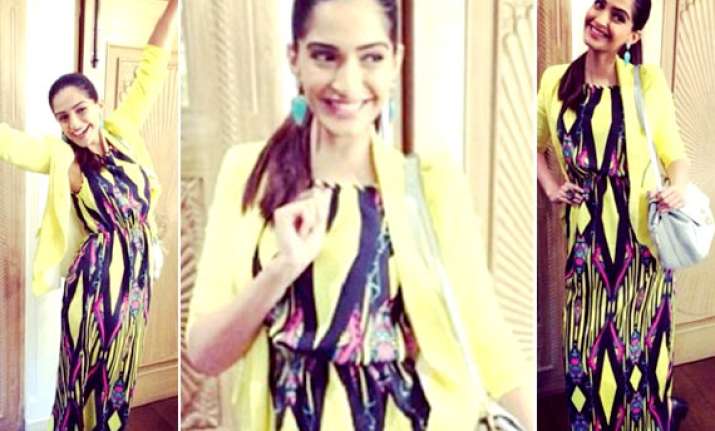 New Delhi: Keeping the 'mis-fit' tag alive, Sonam gave yet another peppy and colourful appearance while promoting her upcoming film 'Khoobsurat.
 Sonam Kapoor always lives up to the fashionista tag and never misses out a chance to look stunning, so why she would be behind in looking good while promoting her upcoming film.
Sonam Kapoor, the gorgeous Bollywood diva who makes sure that here fashion sense creates wonders wherever she gives an appearance stole the show at a promotional event.
Wearing a printed maxi-dress from River Karan Johar's Party Island teamed up with grey Dolce& Gabbana bag, Sonam looked staggering.She glamourised her look with the yellow blazer from Warehouse and turquoise earrings.
The idea of wearing blazer over a maxi was indeed a good one as the blazer perfectly matched the dress.Keeping makeup simple and hair tied up in a pony tousled one side, Sonam made her look visually pleasant.
High on fashion Sonam has been able to strike a perfect notch of fashion and style while promoting 'Khoobsurat'.
After seeing the different looks of the actress we can say that actress looked magical from tip to toe in this appearance as well.
Wearing exquisite dress the actress looked no where less than a true fashion diva.
All we can say is that when it comes to style and fashion no one stands in competition with stylish 'beti' of Anil Kapoor. 
Tell us what do you think, like it or not?