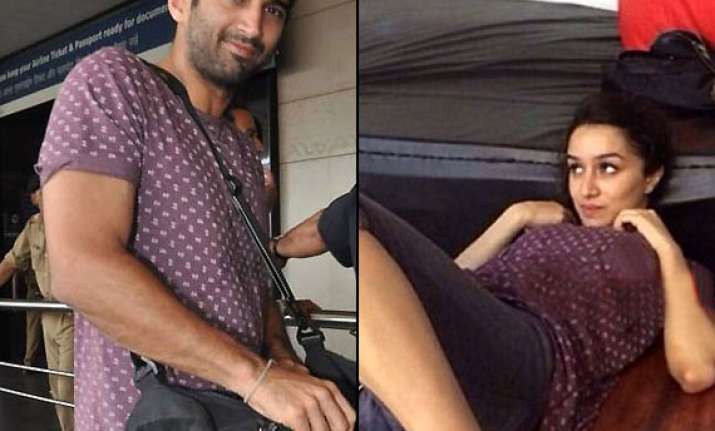 Shraddha Kapoor may have never opened about beau Aditya Roy Kapur but she surely is dropping hints.
Recently the actress shared an old photo collage where she and Aditya Roy Kapur could be seen wearing same T-shirts. This pic was posted on twitter and soon after her fans and followers started talking, the actress sensing that she had spilled a bit too much pulled the plug and removed the pic.
Unbeknownst to her an ardent fan '@adityaandshraddha' of the couple with it's own official account, reposted the pic which again picked the pace with endless re-tweeting.
The photo is a collage of two images, in the first one Shraddha could be seen wearing the same dark lavender printed t-shirt teamed with a pair of capris, while in the second pic actor Aditya Roy Kapur could be seen wearing the same T-shirt with denims.
We often see couples flaunting their love through matching couple T-shirts and it seems with Shraddha sharing this pic, the cat has definitely come out of the bag.
The actress had been busy with her recently released 'Ek Villain' and promotional activities for her upcoming film 'Haider' with Shahid Kapoor
We are just picking up the breadcrumbs supposedly leading us to confirm the couple's intimate bond.