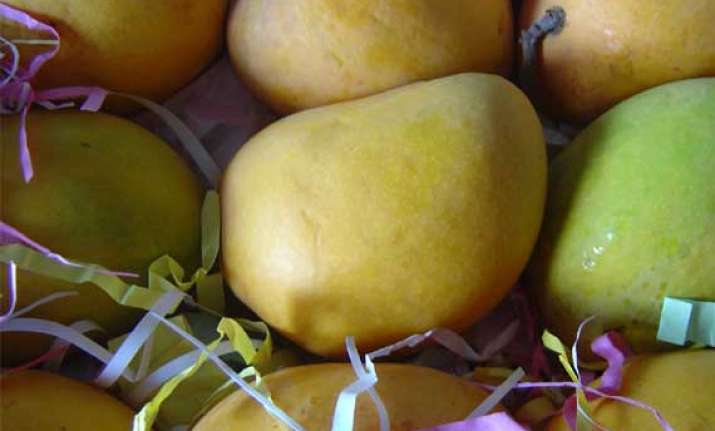 New Delhi: It's the season of the king of fruits - mango! To satisfy your craving and to make the hot weather bearable, indulge in some chilled mango treats at Havemore restaurant here throughout this summer season.
The ongoing Aam Da Thand Festival at Havemore may not offer a three course meal with the yellow fruit as the core ingredient, but it has been used in desserts and drinks that cost Rs.150 onwards.
Stepping out on a hot day is a punishment, but I felt blessed when the staff served me a tall glass of mango lassi at the restaurant. It had no artificial ingredients, hence, the light yellow colour and sour taste with a strong flavour of mango. As I was enjoying it, owner Vaibhav Bajaj joined me.
When asked why a 55-year-old North Indian restaurant chose to host a food festival despite having loyal customers, Bajaj told IANS: "Whenever our customers give us some suggestion, we take it seriously."
"There was a great demand for mango shakes and desserts especially by parents for their children so we thought of introducing them this season."
Made with 'Dussehri Mangoes', the three items - lassi, shake and frozen yoghurt - will surely entice the little ones and adults too.
The mango shake had a heavy dose of milk and mangoes, but it was the fresh cream that gave it a smooth and rich texture.
Both the mango drinks were filling, but since I was at a restaurant renowned for its butter chicken, I had to give it a shot. Bajaj also told me to taste their stuffed mushroom from the vegetarian starters category.
The fried mushroom had a scrumptious filling of spinach and cottage cheese. It had no meat and I relished each and every bite of it.
Up next was the famous butter chicken with garlic naan. The bread was flavoured with garlic and spread with butter. The chicken meat was soft and could be easily cut.
The rich and creamy tomato based flavour of the curry had a typical north Indian touch, so I was surprised to learn that it was prepared by a chef from Nepal.
"Jai Bahadur Hadka from Nepal takes care of all the curries. Alam Khan, on the other hand, makes sure that the kebabs are well cooked. The chefs start from the lowest position at the restaurant and then rise up to this level," said Bajaj.
My creamy journey didn't end with that. The last item was frozen yoghurt. A combination of frozen yoghurt, sweetened condensed milk and sugar topped with small pieces of mango was a sweet way to end my lunch.
My stomach was full, but my taste buds continued to yell 'we want more mangoes'!