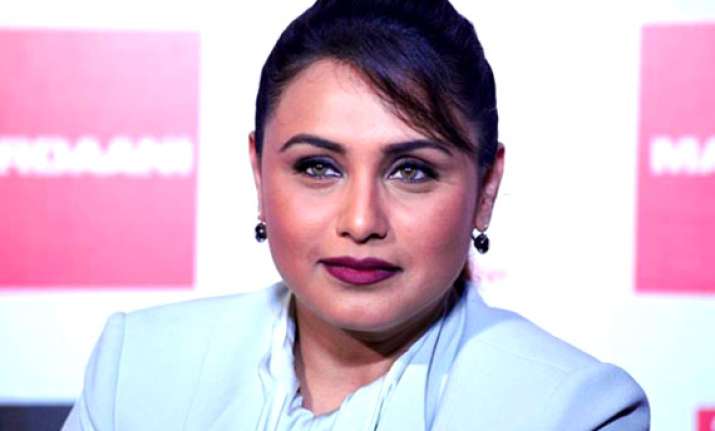 New Delhi: Rani Mukerji is all set to set to play tough cop in her upcoming film 'Mardaani'.
She has gone de-glam for the movie with a raw and gritty feel to it. No doubt she justifies her character very well but what caught our attention was that apart from the film, in real life too Rani is looking chubby and manly.
Rani has been receiving a lot of flak for putting on weight post marriage, and she does look a few ounces heavier, but not just her weight but even her gestures and body movements have become a bit masculine. Don't you think?
Though her look in the film is far from being feminine, dainty or elegant in the film, on ground for promotions, the newly-wed wife of movie producer Aditya Chopra has been seen sporting some special creations by Sabyasachi. Even in Sabyasachi, Rani couldn't escape looking virile.
Moreover, her body structure like forehead, cheekbones, shoulders and other features are making her look heftier.
To add more to it, the typical cop language is giving flame to her 'all-man' look.
We totally agree of being in character till the time the film is release but we miss the queen of Bollywood in feminine look.
The way she used to spill her magic with all elegance and charm is been missing while promoting Mardaani.
Fierce on-screen lady, Rani Mukerji is keeping her promotional appearances brawny as she could be easily seen wearing jackets and pant-suits for some of the promotional events.  This draws more disappointment to us.
Well, all we can say is that getting involved in character is good but too much of anything is harmful and we can see that.
Directed by Pradeep Sarkar, Mardaani is produced by Yash Raj Films. Rani's character in Mardaani is apparently based on a real-life lady police officer from Mumbai crime branch, who solved several child trafficking cases in the city.
'Mardaani' is scheduled to release on August 22nd 2014.