Follow us on Life in metro cities is becoming really hectic with every passing day. At some point our mind and body do ask for a break. Break from the fast running city life, from the scorching heat and from various other activities and that is the time when we plan for a vacation.
But when it comes to planning a vacation the first thing that comes to mind is the budget. Budget is one of the major things that can either make or mar your vacation.  
Certainly, everyone wants to have a good vacation but without spending much.
So we bring to you some of the places where you can spend a good time and that too in just Rs. 3,000.
Agra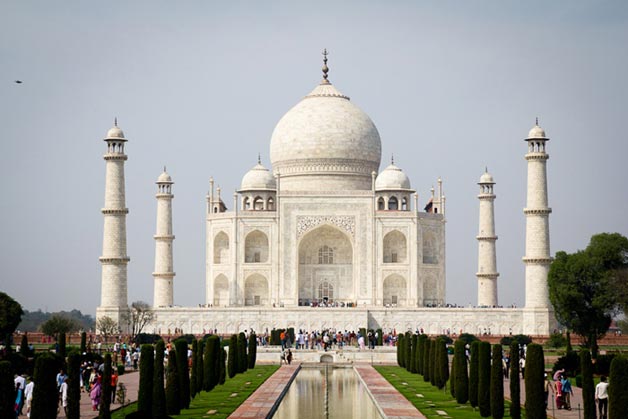 Distance from Delhi: 209.8 km via Yamuna Expressway
Time from Delhi: 3 hrs
If you are looking for a romantic vacation with your partner then what else can be better to celebrate love other than Taj Mahal in Agra.
The epitome of love - Taj Mahal, can give you those perfect moments with your special one. You can enjoy the scenic beauty of this Mughal monument, with a help of a guide or even alone. However, this incredible monument looks at its best on a full moon night.
There are various affordable hotels available near Taj Mahal which can provide you a decent stay in the city without loosing your pocket much. Also, there is an open market near Taj Mahal, where you can buy various things and that too at a decent price.
Apart from Taj Mahal, there are other places as well which also display the magnificent Mughal architecture in the city.
After enjoying the romance at Agra and getting a few photographs clicked, you can head over to the Agra Fort and Fatehpur Sikri to feel the beauty of the Mughal art.
You can travel to the city either by your car or can even opt for a train.
As there are frequent trains running between Delhi and Agra, you can take the train according to your schedule. It takes maximum 3-4 hrs to reach the city.
Infact, a new train, between Delhi and Agra, called the 'Gatimaan Express' has also started. This train will run at a speed of 160kmph and will enable you to reach Agra in just a matter of 2 hours or even less.
Nainital
Distance from Delhi: 297.8 km via NH24
Time from Delhi: 6 hrs and 18 minutes
The moment summer arrives each one of us starts thinking of a vacation in a hill station butnow your budget won't be a hurdle anymore whenever the hills call you, especially when it comes to Nainital.
You can either drive yourself to this town of lakes or can take Shatabdi Express from Anand Vihar to Kathgodam and can enjoy the journey in train.
Nainital is a complete tourist delight as it gives you the true feel of natural beauty along with some trekking, boating and wildlife also.
Once you reach the city, Naini Lake is a must visit for you as this lake not just gives the city its name - Nainital, but is also the heart of the city. While boating at the lake you can also enjoy the majestic view of the surroundings comprising mountains.
For trekking and wildlife experiences, you can visit Snow View Point and Sonanadi Wildlife Sanctuary respectively, and can have some of the best experiences of your life.
As no vacation is complete without shopping, Nainital has a famous Mall Road which has various shops and café that will suit your budget easily.
The natural beauty, climate and the picturesque view of Nainital is no less than a jackpot in this scorching heat and that when it fits your budget easily.
Amritsar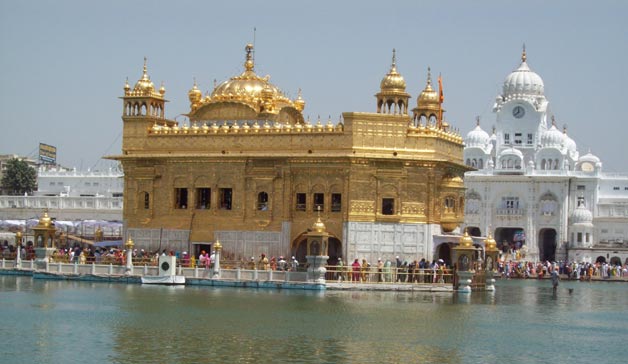 Distance from Delhi: 465.0 km via NH1
Time from Delhi: 7 hours 59 minutes
After a busy and chaotic week, at times you like spending a weekend in serenity. For this, one of the best options is to visit Golden Temple in the holy city of Amritsar.
Although you have an option of going by car, but a journey through train would be a convenient one in this case.
After paying homage at the Golden Temple, you can feel the sense of patriotism at the Jallianwala Bagh which is located near by the Gurudwara. You can also take up a reasonable guest houses near the Gurudwara or can book a room in the "Sarai" in the Gurudwara complex.
Apart from this, Wagah Border is a must-visit in Amritsar which is the border between India & Paksitan. You can witness The Beating Retreat Ceremony there every evening. It surely is worth a visit place.
And then who on earth doesn't like Punjabi food and dresses? Amritsar is one of the best and affordable places in Punjab to shop and relish the actual Punjabi food.
The Old City Bazar and the Hall Bazar can allow you to shop at a reasonable price.
Pushkar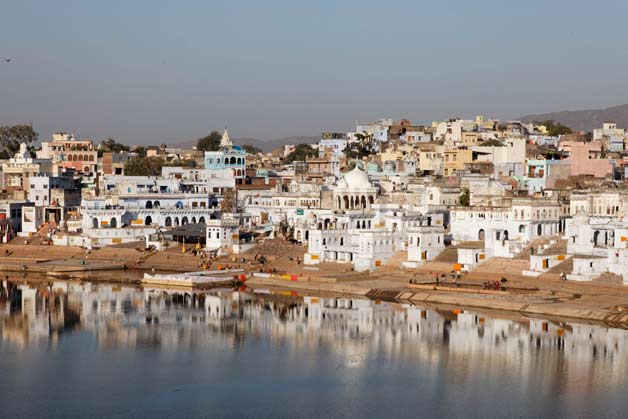 Distance from Delhi: 404.7 km via NH8
Time from Delhi: 7 hours 7 minutes
Pushkar is another place where you can enjoy your vacation with 'royal' divinity. Located in Rajasthan, this place marks its own unique presence in the state.
You can experience a different serenity in this city.
You can either choose to go by your car or can even opt for a train. But the best time to visit Pushkar is during the Pushkar Mela which is held in October-November.
Here you can actually witness the real Rajasthani culture and can also see the intriguing camel race and various other amazing competitions.
Pushkar also holds a very important religious value in Hinduism because of the Brahma Temple here. So your visit to Pushkar is truly incomplete without visiting this beautifully-built temple.
Just near Brahma Temple, there is a market where you can shop for exquisite stone and silver jewellery at a very low price. This will help you please your lady love without even burdening you budget.
Now one of the other important places which you can afford to miss is the beautiful Pushkar Lake, which has 52 ghats. It is believed that a 'parikrama' of this lake actually help one get rid of his/her sins. Well, this isn't a bad option to get pure.
When you are on a trip to Pushkar, you also have a chance to visit the famous Ajmer Sharif Dargah which is also near Pushkar. This can add to the divine touch in you vacation in the princely state.
Chail

Distance from Delhi: 348.8 km via NH1
Time from Delhi: 7 hours
After a tiring week in the scorching heat, you must be looking for a calm place to refresh your mind and soul.
Chail is the answer for your low-budget chilled-out vacation that will surely energise you to the core.
The best way to reach Chail is by your own car. However you can also opt for a train. In case of train, you will get a chance to travel in the toy train on Kalka-Shimla track which can be a fun experience as well.
After reaching Chail the first thing you will experience is mental relief just by being in the lap of the nature.
Now as Chail is a small hill station, you can get some good lodges at a very cheap rate.
You can experience the scenic beauty of the place while a drive through forests and villages to Kufri and can even check out the world's highest cricket ground there.
Being a small town there won't be many shops there, but the best is yet to visit.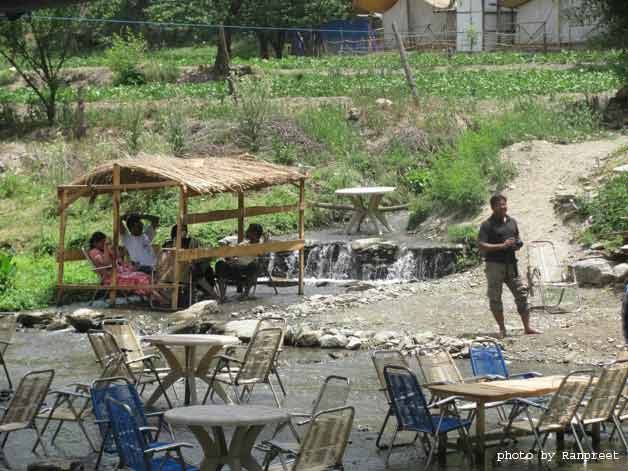 Your Chail visit won't be complete without visiting Sadhupul which is a small village between Solan and Chail near river "Ashwini".
Here you will see open air restaurants in the middle of the river. Putting your feet in the flowing river can be the best experience.
Those who are looking for an adventure, Chail will not be a disappointment for them as well. You can participate in various adventurous activities here like bamboo bridge adventure activities, rope-walking, rock-rappelling and much more.
Chail can be a revitalizing place where you can either check adventurous limits or can relax in the lap of the nature.