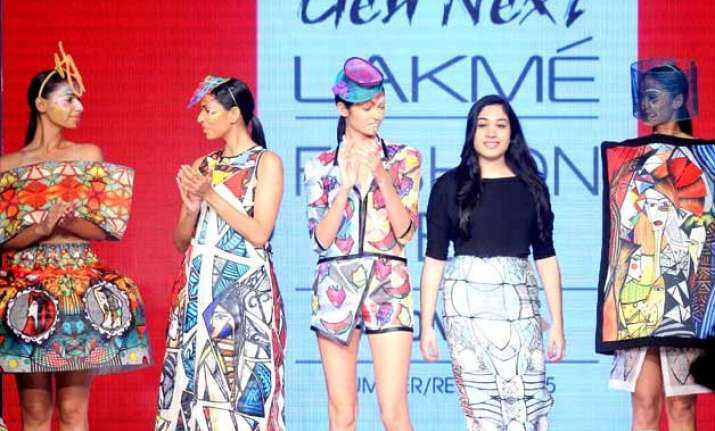 Mumbai: Lakme Fashion Week's role as platform promoting young and budding designers was quite visible on the opening day of the fashion gala's summer-resort 2015 edition on Wednesday with some fresh faces showcasing their collections whose unique and out-of-the-box themes left fashionistas mesmerized.
The five-day fashion event started here at the Hotel Palladium and unlike many other platforms where established names are given the responsibility to open, the LFW started with Gen Next show where six new designers showcased their creativity.
Mentored by ace couturier Anita Dongre and presented by INIFD, the 19th edition of the Gen Next show witnessed collections that were a fabulous mix of creativity, style, innovations and trend setting directions.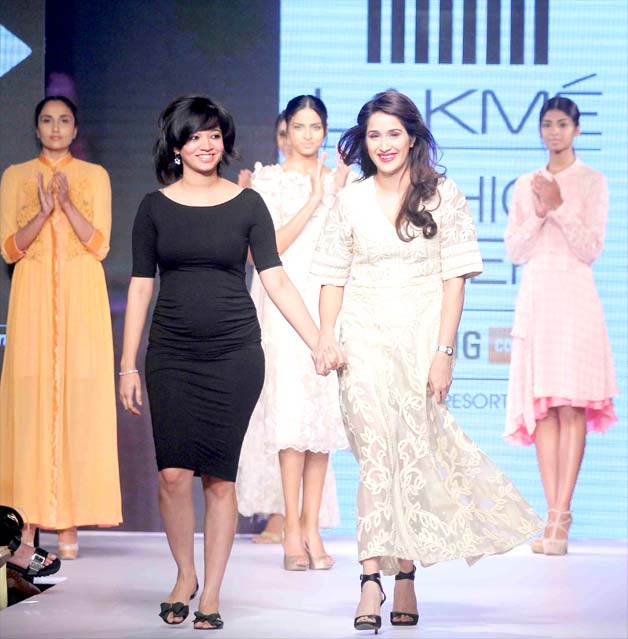 Kicking off was Alan Alexander Kaleekal with a collection illustrating how a child would reinterpret an adult wardrobe. Moving away from specific norms of fashion and categories, the line was an eye-catching offering of stylish clothes, using a colour story of ecru and black to craft a sheer-solid tie-up dress, a cotton boxy tunic, a cut-away overall with cropped top and a rear back tie-up tunic with shorts.
Ankit Carpenter's collection focused on timeless clean construction and silhouettes. Inspired by the cactus, the outfits exuded sophisticated elegance, luxury and comfort, yet had a wild streak and beauty. It comprised jumpsuits, one-shoulder dresses, pant suits, embroidered gowns and many more.
Next was Kanika Goyal whose collection was inspired by the stillness of the night and the wild instincts this time evokes. Using glass nylon, polyester satin, denim, lycra, lamb leather and cow hide in shades of white, beige as well as lilac, the designer showed a line that had a clever mix of textures.
Manish Bansal's menswear range was inspired by the suit of cards as well as the garb of corporate head honchos. His designs gave suits a new dimension. Blending past and present fashion statements, the designer showed a knit kurta with kangaroo pockets, shorts, Bermudas with racer back tank, shirts with a single embellished sleeve sporting the playing card casino print, zippered blouson and thigh-long coat with discreet prints.
Priyanka Ella Lorena Lama presented an inspired collection from the mythical utopia. Her ensembles had that unconventional quality that is aimed to create aesthetics via constrained imperfections but with a restrained design story. Draped Zen like kimonos, kaftans with long trails, wrap-around oriental creation with looped back, ballooning sleeves, dress with rouched draped cover, rolled collar cloak and the final batwing long kaftan, were some of her pieces.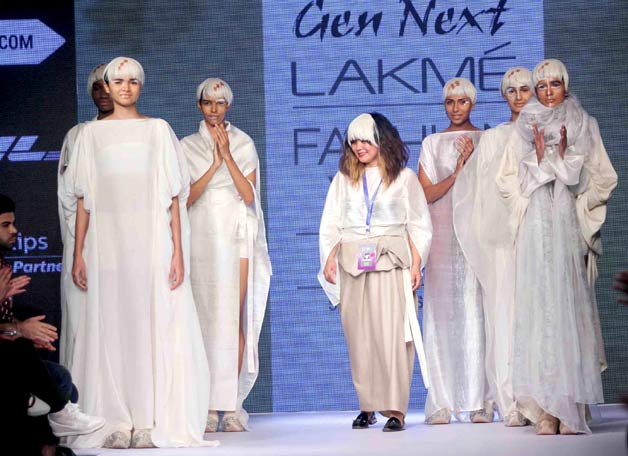 Inspired by Pablo Picasso's cubist painting "Les Demoiselles d'Avignon", Salita Nanda's designs were designed for the young stylish woman. Working with digital prints and a series of 3D printed fabrics, she creatively brought out the African undertones in Picasso's masterpiece with prints and symbols that portrayed love, beauty and strength.
Off-white was the base of the collection for the artistic prints, which appeared on jumpsuits, cropped tops, skirts, an unusual boxy rectangular tube over skirt, wrap around shorts, applique printed maxi and a striking off-shoulder cropped top with a lampshade shaped skirt.