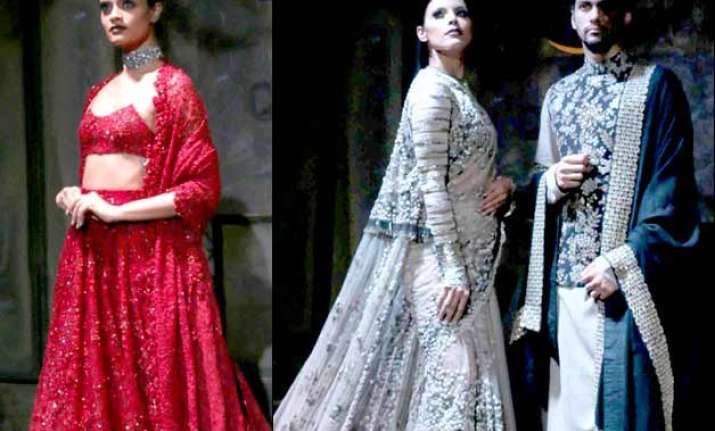 New Delhi: Fashion designer Sabyasachi Mukherjee today inaugurated the sixth Amazon India Couture Week (AICW) in collaboration with the noted French footwear designer Christian Louboutin here.
The vintage collection, titled "Bater", after one of India's most common hunting birds, saw the earthy colour palette of greys and browns. "Though it's a common bird but it has a lot of resilience and I wanted to bring out a collection which is inspired by hunting birds and prey. I wanted to keep it dark, gothic and sexual," Sabyasachi said after the show.
Louboutin, 52, whose iconic red sole shoes were donned by the models, is in awe of the Indian designer's collection. "It was a very beautiful collection. Of course, I knew the work of Sabyasachi but I had never attended his show. To me it was a great experience. I barely attended any Indian fashion show and I loved the set and outfits. It was exactly the way things were done in Paris," he said. The set was designed as a dark jungle, surrounded by artificial bats. The noise of fireflies, bats and violin instilled the requisite spooky sound effect of the deserted place. Models sashayed down the ramp in highly orbited outfits like jackets worn over sarees, short dresses, long maxi dress, skirts and trousers. While male outfits saw bandhgalas teamed up with shawls, sherwanis and Nehru jackets with embroidered sleeves.
Sabyasachi, who is known for his voluminous outfits, opted for structured pattern this time for his couture collection. "We wanted the clothes which are very much body conscious this time instead of doing something which is voluminous. It was basically modern and eccentric," he said. The collection also saw loads of antic hand embroideries which were presented in a modern way.
"We used a lot of hand embroideries from different parts of India. There was zardozi, Badla Ka kaam, fine resham Ka kaam, Parsi. So, all sort of old Indian embroideries interpreted in modern way of geometries, flat line, linea. From us, it was a kind of new expression."
Asked why Bollywood's presence was not there on his show, Sabyasachi, who has industry A-listers as his clientele, said, "Me and Christian have a lot of friends in Bollywood. But let me tell you something, he has dressed up some of the beautiful women in the world and I think for me he was the showstopper."
The collection took only two months to complete and the designer said he is "proud to be a part of the country where anything can happen". Spanning five days, Amazon India Couture Week 2015 will see 10 other ace designers presenting their collections.