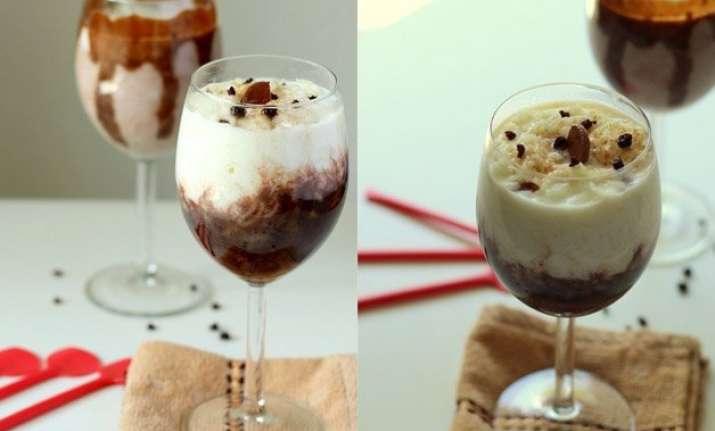 Most of us are so fond of sweets that it becomes really hard to resist a sweet dish no matter what.
The moment we think of a sweet dish the first thing that comes to ones' mind is chocolates.
People love chocolates irrespective of their age. And then comes the turn of other desserts like sevaiyyan, custard, mithai and even kheer.
But how about giving your favourite dessert a blend of yummy chocolate?
Isn't it like a cherry on the cake?
So, satiate your sweet craving with the yummy 'chocolate kheer' as we bring you its recipe in easy steps:
Ingredients:
Basmati rice, milk, sugar, cocoa powder and drinking chocolate
Method:
1. Take ½ cup of basmati rice and rinse it thoroughly. Now boil the rice in a pressure cooker for 15 minutes.
2. Take 2 cups of milk in a pan along with 2 tbsp of sugar and boil it. Once the milk comes to boil, cook it for another 5 minutes at a low flame. Make sure you stir the milk while it's boiling.
3. Now add ½ tbsp of cocoa powder along with 2 tbsp of drinking chocolate to the boiled milk and mix well. You can also add 1tbsp of Nutella for extra flavour.
4. Add the boiled rice to the milk mixture and cook it for 15 minutes on a lower flame.
Chocolate kheer is ready to be served. Garnish it with some chocolate chips before serving.