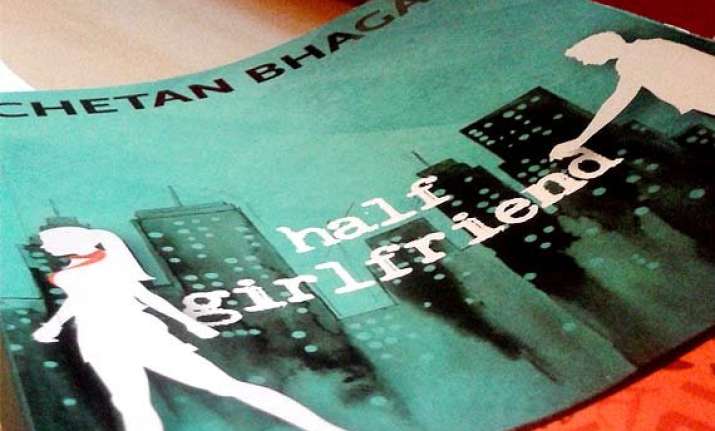 Yes, I deem I liked Chetan Bhagat's Half Girlfirend!
Despite a narrative that evidently looks like a screenplay, I liked Half Girlfriend. Despite the protagonists for whom I tried myriad of times but felt nothing, I liked Half Girlfriend.
Despite a bit illogicality typified in the rationale setting of true love, I liked Half Girlfriend and finally despite a whole lot of exaggeration around the situations and the circumstances, I liked Half Girlfriend.
The reason being myself made definition of a book – that if a storyline is communicating what the writer wants to evoke in the minds of his audience, the narrative turns justified.
A simple love story surrounded with too many complexities, Chetan Bhagat's Half Girfriend is not an easy storyline to digest but trust me and a feel good asthenia would transport you in the world of Madhav and Riya.
Madhav Jha, a self-motivated boy from a small but princely district of Bihar makes it to the one of the most prestigious colleges of India owing it to his great Basketball talent. And here, he meets Riya Somani through the only common channel they have (Basketball) who accidently happens to be the love of his life and pierce deep feelings for herself in the man's heart.
Bhagat sets a good background for his hero and heroine to let grow their bond and exchange the little secrets of their lives. Everything runs smoothly until Madhav twists his affection into desperation and asks the lady 'Deti hai toh de nahi to kat le… which translates to either f*** me or f*** off (in case you are from Bhagat's non-English types). And sophisticated Riya does exactly what any 'good heroine' from our Bollywood film will do, asks him to stay away only to meet him a few months later and invite him at her wedding.
Now that's a perfect Hindi film setting, Riya presenting her wedding card to Madhav and inviting him to her high-profile wedding who she knows has feelings for her. However, Bhagat's matrix for the description of such an important scene of his narrative appears dramatic, dramatic enough to have passed the entire week had it been a telly-soap.
And what follows after the sad separation is something that only Chetan Bhagat can do with his writing and still escapes. Madhav accidently stumbles into Riya after so many years during his visit to Patna with Gates Foundation members. The man wants to learn perfect English in order to garner funds for a rural school run by his mother in the village and give a speech to probably one of the richest men alive, Bill Gates.
Riya helps his 'still a best friend' to have a good command over English and prepares him to impress the foreign delegates. However, the lady leaves the man once again forcing to succumb herself to lung cancer.
Several other issues – importance of sports, domestic violence, idea of development, career struggle and finding your true self in this messy world have also been touched. And truly speaking I wonder why a film (oops! a story) like this ever required to be so complex!
Though Bhagat succeeds in making an effective portrayal of settings around the college, inside the basket ball court stories, a rural but princely Dumraon and the tiny gestures of love, it becomes too fussy at times. Now, who would give the private journals of his dead girlfriend to a stranger? Fine, that Chetan is a widely know personality and that the couple might have enjoyed reading his novels but forcing a few journals over him saying that he might find something interesting in them sounds absolutely absurd.
The only fact that I would like to praise Mr. Bhagat is his instant punches. A few lines or statements that the writer has involved in his writing comes as a sharp humour and helps you staying glued to read more. 'I wanted to spill noodles all over my face,' 'Little cupcakes of happiness exploded inside me' – the story has lines that Bhagat aptly utilizes to elaborate feelings exactly.
Chetan Bhagat's Half Girlfriend provides more pleasure in visualising it as a running Bollywood movie than a nicely written love story. I feel connected to the story line since I could imagine each and every setting turning into a cinematic frame (no wonder I even finalized the name of my Bollywood stars fitting perfectly into the narrated characters).  
Overall, Half Girlfriend is not a disappointed piece of work but it could not surpass 'Two States' magic (not at least for me) and digging the work more would mean to kill your own prosthetics of expecting a good cinematic adaptation.