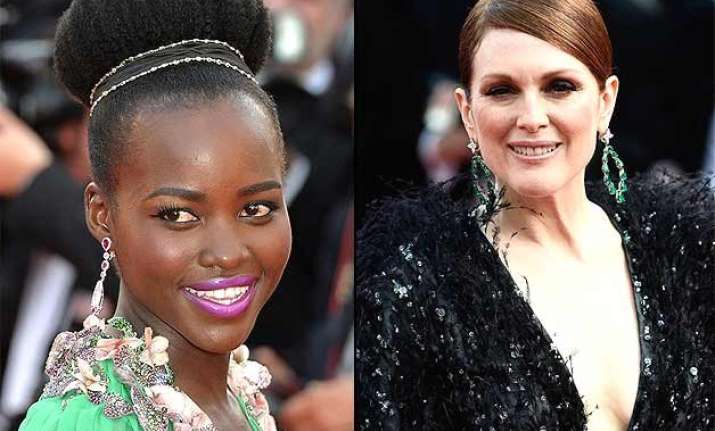 New Delhi: The red carpet of the 68th edition Cannes International Film Festival (Cannes 2015) has featured not just designer gowns, but also for striking hair and makeup trends. Julianne Moore and Lupita N'yongo were among those who stood out.
The leading Hollywood ladies flaunted a sculpted look to perfection. Here's how you can do it too!
Shailesh Moolya, national creative director, hair at Lakme Salon and Sushma Khan, national creative director, makeup at Lakme Salon, have decoded, in few easy steps how to get these looks, said a statement.
1. Julianne Moore at Cannes
Hair: The classic low chignon
- To get this clean side swept low chignon, start with washing and blowdrying the hair.
- Lightly back comb hair at the crown for slight volume.
- Comb hair into a deep side parting, and brush tight and neat. Tie into a low pone close to the nape of the neck.
- Use a hair bungee to tie the bun, and gel the remaining loose fly aways.
Makeup: The Au naturel sculpt face
- To get a clean surface to apply makeup, use an eye primer from the lid to the brow bone. Then, use a shadow base from the inner corner to outer edge of the eyelid. Carefully apply black eye shadow, avoiding any smudging or smearing around the eye.
- Fill the water line with grey kohl pencil and smudge on the outside with a pencil brush for a smokey effect. Add fake lashes and mascara the upper lashes to add more drama.
- Lastly, shape eyebrows with a clean raised arch for a shapely and sculpted look
- For a nude sculpted face, use a foundation shade 3-4 shades darker than your actual skin tone. Using a brush, start from the centre of the ear and go downward towards the corner of the lip, stopping halfway at the cheek. Contour the sides of your nose as well to get a sharp chiselled touch.
- For nude lips, line your lip with a lip pencil 3 shades darker than your lip colour and fill in with a natural nude shade. This way, the drama of the sculpted eyes is focused on.