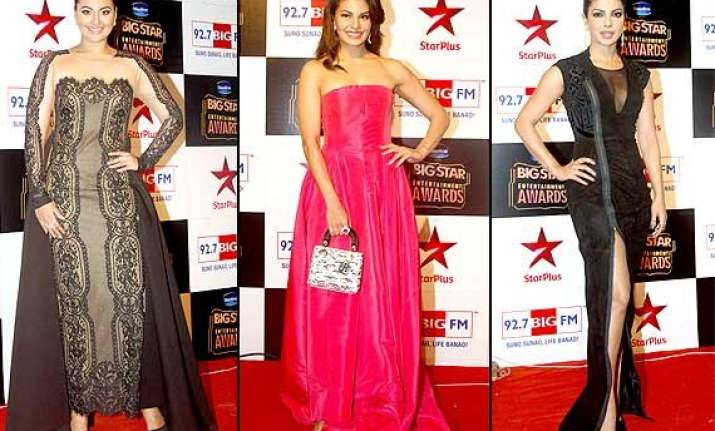 New Delhi: Big Star Entertainment Awards 2014 took place last night, December 18, in Mumbai.
Another event marking the glamorous presence of Bollywood celebs, the award ceremony was held with great pomp and show.
Gracing the red carpet at the coveted awards ceremony were dazzling stars including megastar Amitabh Bachchan with Abhishek Bachchan, Priyanka Chopra, Salman Khan, Arjun Kapoor, Sonakshi Sinha, Alia Bhatt, Jacqueline Fernandez, Mallika Sherawat, Ayushmann Khurrana, Kriti Sanon, Riteish Deshmukh amongst many others.
With another fashionable night rolling down at their feet, our Bollywood divas got yet another chance to flaunt their alluring selves and they surely took full advantage of the opportunity.
While Sonkashi, Jacqueline and Priyanka left no escape in enchanting with their flawless beauty, Mallika Sherawat too gained limelight due to her terrible styling.
Here follows a few red carpet pictures, check out to know who excelled on our style meter and who failed to score due to their bizarre fashion sense!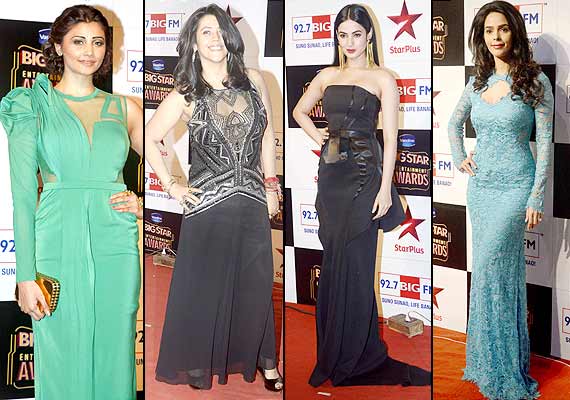 Mallika Sherawat, who repeated her Cannes Pucci outfit looked rather ghostly at the event. WIth such an elegant lace dress, she ruined her entire look and went for do-not-why voluminous hairdo and a dash of stark red lips. Ignore!
Bollywood newbie, Daisy Shah draped herslef into an emerald gown; the one with a busy shoulder look. Though daisy looked fine, those messy hairdo could not add much to her appearance, instead it did ake away a notch or two.
Actress Sonal Chauhan, who is fahsionably available at almost every event happening in the industry too acceptably styled herself too. However, her structured outfit need to have a bit more in place. Look closely and you will realise that off beat direction in which the dress is going!
Lastly, Ekta Kapoor - Well, we do not expect any tremendously stylish appearance fromo the successful woman. But, all we are saying is that at least coordinate something (tie your hair if possible for once!).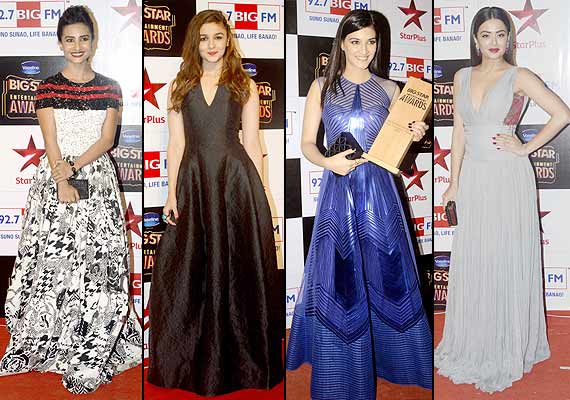 Another talented newbie, Patrelekha went for a beautiful look when she aopted for an Atsu creation. The lady appeared elegant and quirky at the same time.
Alia Bhatt looked peppy and sophisticated in her Halston Heritage gown. Halter neck accomanied with her tousled hair glaired up her bubbly self.
It was Heropanti actress Kriti Sanon who took the instant limelight as she arrived in her AMit Aggarwal dramatic gown. The electric blue gown added the perfect youthful charm in the actress' look.
Another sassy actress, Surveen Chawla looked ravishing in her gray gown with red panels. The styling on that serene Abdul Halder gown was something that made her stood out amongst all.