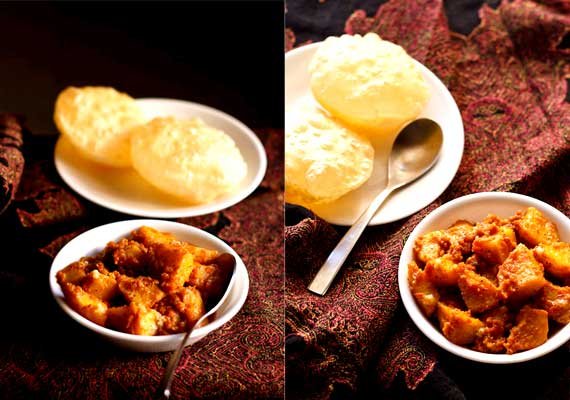 New Delhi: Food plays a very important role to make any festival more memorable and enjoyable and when it comes to Bengalis during Durga Puja,the role becomes much more vital as they are considered foodies.
Bhog is usually the anna prasad offered to the goddess. While it used to be kichdi earlier, over the years, variations have been added and now different kinds of rice and vegetables make the bhog.
Luchi and aloo dum is the quintessential Bengali food for breakfast, lunch and snacks. On all festive occasions when Bengalis are prohibited from eating rice, they eat luchi or poori.
Main Image Courtesy: www.vegrecipesofindia.com
The dish is even popular at puja pandals. The Bengali dum aloo has a different procedure to cook and even taste is different. The potatoes are parboiled and then fried in mustard oil.
The best way to have Bengali dum aloo is with luchi. They are like a perfect match made for each other. Bengali matar kachori and poori are the second best option to go with it.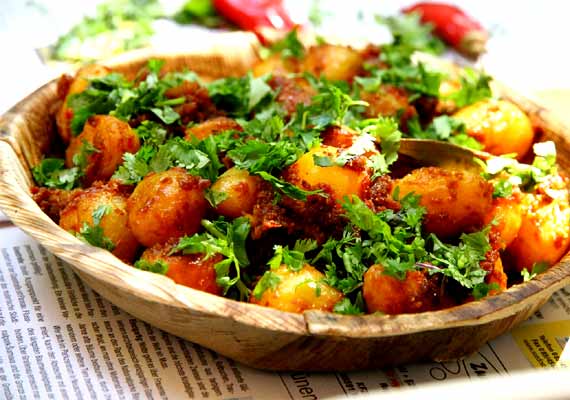 Ingredients for Aloo Dum
Baby potatoes- 12 (boiled and peeled)
Onions- 2 (paste) Garlic cloves- 8 (paste)
Ginger- 1 inch (paste)
Tomato- 2 (pureed)
Green chillies- 3 (chopped)
Cumin seeds- ½ tsp
Bay leaf- 1 Red
chilli powder- 1 tsp
Turmeric- ½ tsp
Coriander powder- 1tsp
Cumin powder- 1tsp
Garam masala paste- ½ tsp
Ghee- 1 tsp
Mustard oil- 2tbsp
Sugar- ½ tsp
Salt- as per taste
Procedure for Aloo Dum
1. Heat oil in a deep bottomed pan; season it with bay leaf, cumin seeds and green chillis.
2. Add sugar for the caramelized colour. After 30 seconds, add the paste of onion, ginger and garlic.
3. Saute the paste for 2-3 minutes until it starts turning brown. Then add the tomato puree; sprinkle salt, red chilli powder, turmeric, coriander powder and cumin powder from the top.
4. Stir and saute for 5-6 minutes until the oil starts separating from the gravy. Now add the boiled potatoes to the pan and stir it in. You can add ½ cup water if it is too dry.
5. Mix all the ingredients and let it cook for 3-4 minutes on a low flame. Season with ghee and garam masala paste before removing the pan from the flame.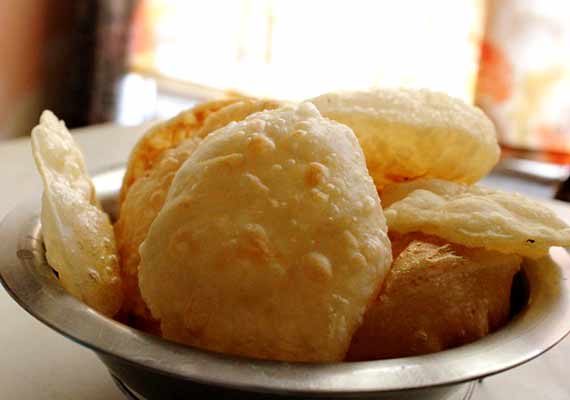 Ingredients for Luchi
Flour- 2 cups
Water- 2/3th cup
Ghee- ½ tbsp
Salt- 1 pinch
Oil- 3 cups
Procedure for Luchi
1. Make dough with all the ingredients mentioned here.
2. Cover the dough with a wet cloth and leave it for 30 minutes.
3. Now heat oil in a deep bottomed pan until it steams. Take fistful of dough balls and roll it out into round luchis.
4. Place the flattened luchi in the steaming oil and fry it until it bloats.