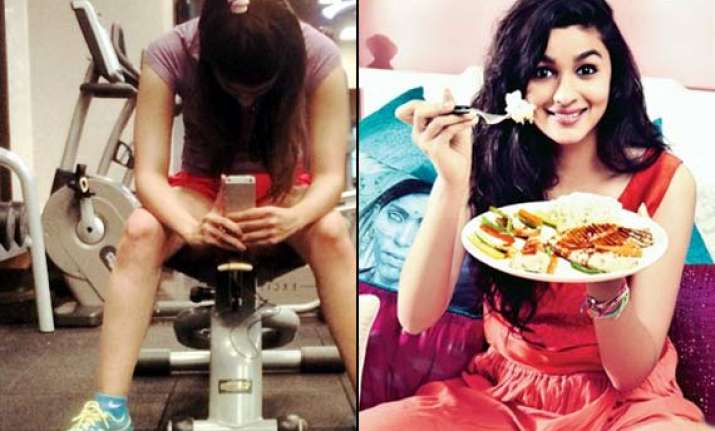 New Delhi: Alia Bhatt wasn't always a health-freak or blessed with svelte figure, she was like every normal teenager with love for food & lazying around the house.
She weighed over 70 kgs when approached by Karan Johar for 'SOTY' and was given over 3 months time to lose around 16 kgs. It was not an easy task for her as Alia had to go through rigorous training in gym thrice a week and also look out at her diet.
Soon she adapted the healthy lifestyle and loves feeling light 24*7. Alia also loves practicing yoga and does ashtanga yoga two days a week.
But that hasn't stopped her from enjoying the favourite cuisines. Whenever Alia gets her hands on her favourite delicacies she never misses out on trying and later on covers up with extra time in gym.
With her extra-strenuous work schedule thanks to three big hits this year so far, Alia is surely on cloud nine and this means more celebrations.
Being a selfie freak, Alia never lets her fan stay in wonder how does she stay fit, recently she gave her fans a glimpse from her workout regime. Take a look at Alia's love for food, gym and fun...
During Alia's tryst with weight loss for 'Student Of The Year' she was put into a stringent workout regime that comprised of, Dumbbell raises, Push-ups, Bicep curls, Lat pull-down, Triceps push down, Crunches, Back extensions, Lunges, Squats, Running on the treadmill with 15-20 reps and 3 sets each.
Apart from her regular gymming she also indulged in number of sports activities like, swimming, kick-boxing, altitue-training and running.
Being fond of traditional Indian cuisines, Alia couldn't avoid having a bit of Kolkata's famous 'rosgulla' during her promotional activity in the city for recently released 'Humpty Sharma Ki Dulhania'.
She opts for a low-carb, high protein, fibrous diet which helps her in staying light and going throughout the day.
Alia loves to to include yoghurt, salads & fresh fruits in a her daily diet.
Once in a while during special family occasions the diva gives her diet a rest and believes in indulging herself to savor variety of delicacies especially prepared by her mom Soni Razdan.
Alia loves Christmas as this day her mother puts on table one of her favourite dishes stuffed 'turkey'.
Not only does she follows her diet but also manages to get her body enough fluids in forms of shakes, fresh juices, and water.
On regular basis during her shoots, she makes sure to keep herself hydrated.
Even her love for chinese cuisine too hasn't gone unnoticed and often co-stars and friends bombard her shoot with dishes that make her forget her schedule.