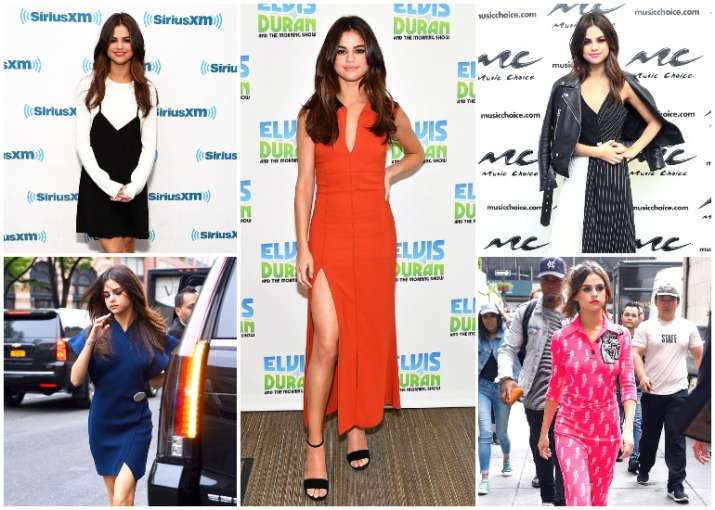 Who has it in them to change their looks for six times a day and look ravishingly gorgeous in each one of them? Selena Gomez is certainly one of the bests when it comes to sartorial choices. The 24-year-old pop star makes sure that she looks good for her fans. She put her closet on display on Monday, June 5 in NYC ,where she donned six different outfits throughout the day. The 13 reasons why-executive producer Selena Gomez, graced as many as 6 beautiful outfits in a single day. Let's check them out.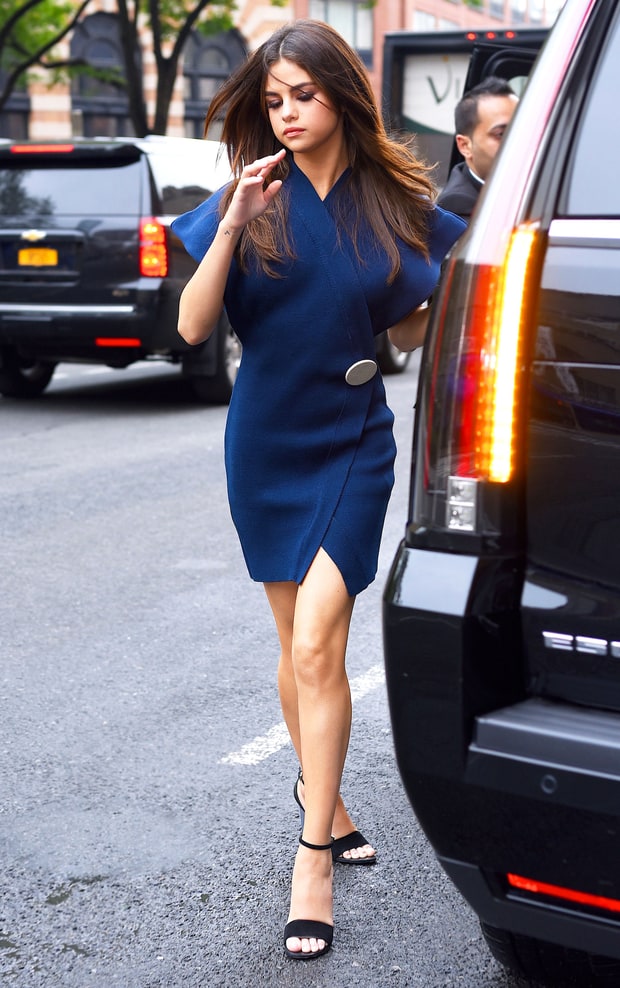 outfit no.1
Her first outfit of the day was a chic navy-blue Jacquemus wrap dress that ended just above her knees. She teamed it up with a Louis Vuitton's crystal flower sandals that cost about a whopping amount of $1,060! It is made up of black goat suede and a transparent heel. She styled her hair in a minimalistic manner with centre partition.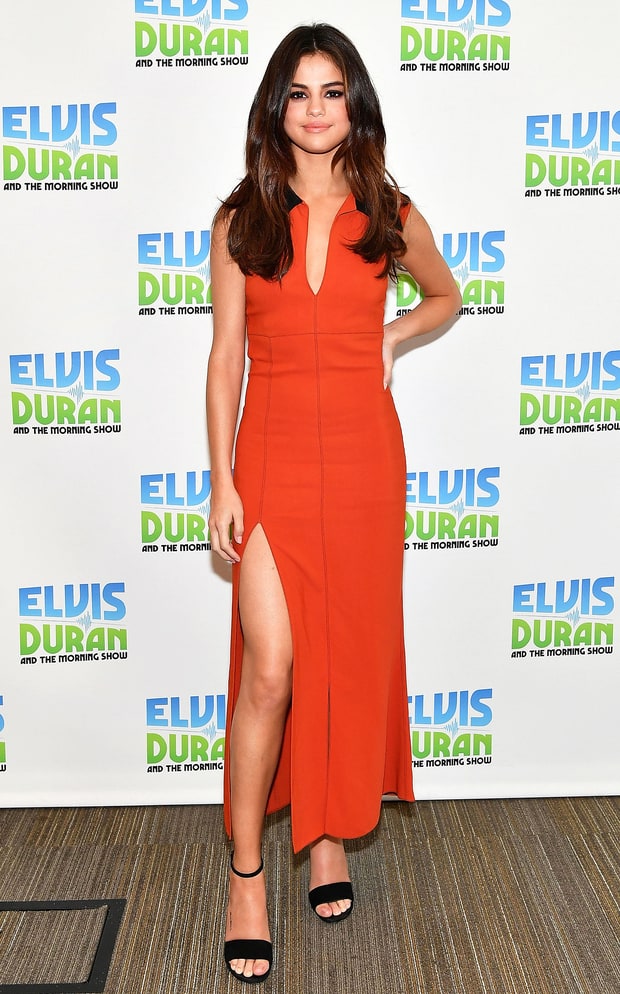 outfit no. 2
Her next is my personal favourite. A bright-orange coloured Christopher Kane dress with a thigh high slit and plunge neckline. She wore a smokey eye makeup and kept her lips bare. For her hair, she picked soft waves with centre partition. She kept her Louis Vuitton sandals same as the previous look.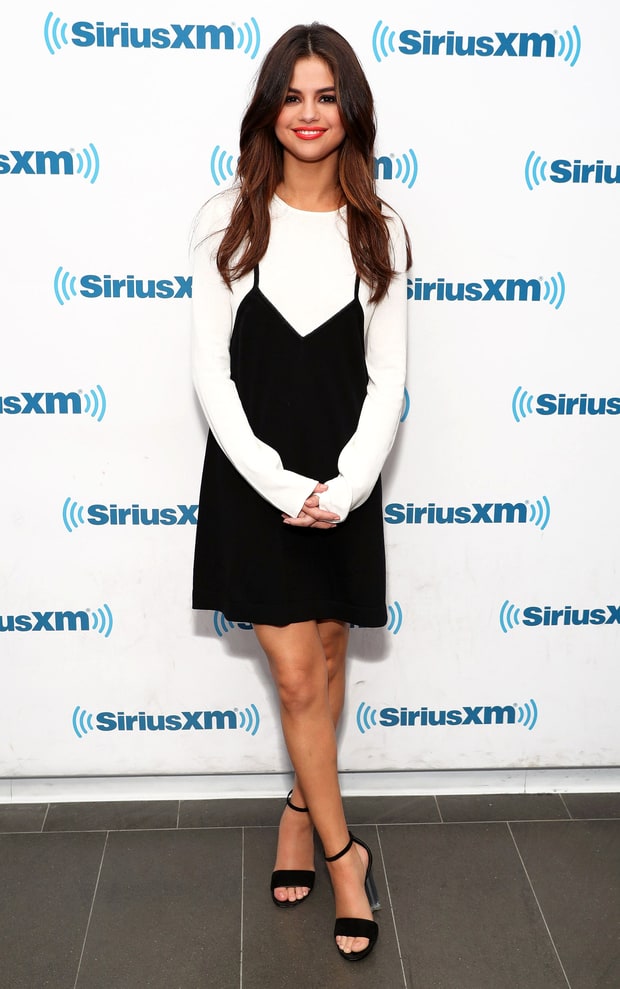 outfit no. 5
In her next avatar, the gorgeous pop-icon looked her summer best. She wore a black mini dress over a white full-sleeved top. She again keeps her Louis Vuitton sandal the same. There's a slight change in her makeup. She donned a blood-orange coloured lipstick for this look.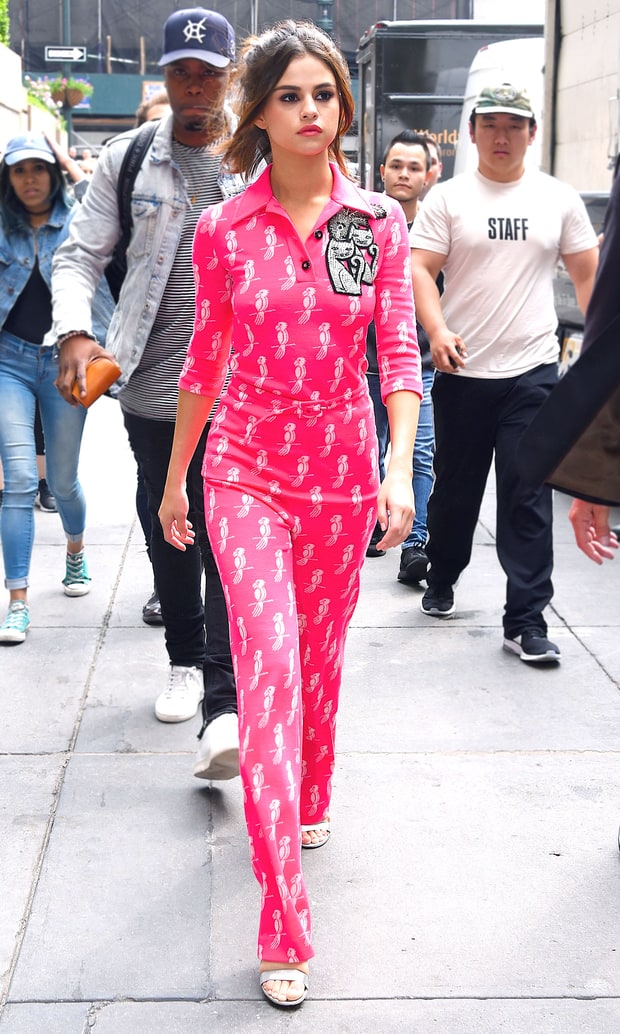 outfit no. 3
This outfit is drastically different from her previous ones. She went all pink with a Miu Miu belted jumpsuit with a white parrot print. She tied her hair into a messy ponytail and donned a fuchsia pout for this attire. Selena teamed her outfit with a pair of silver Gianvito Rossi heels.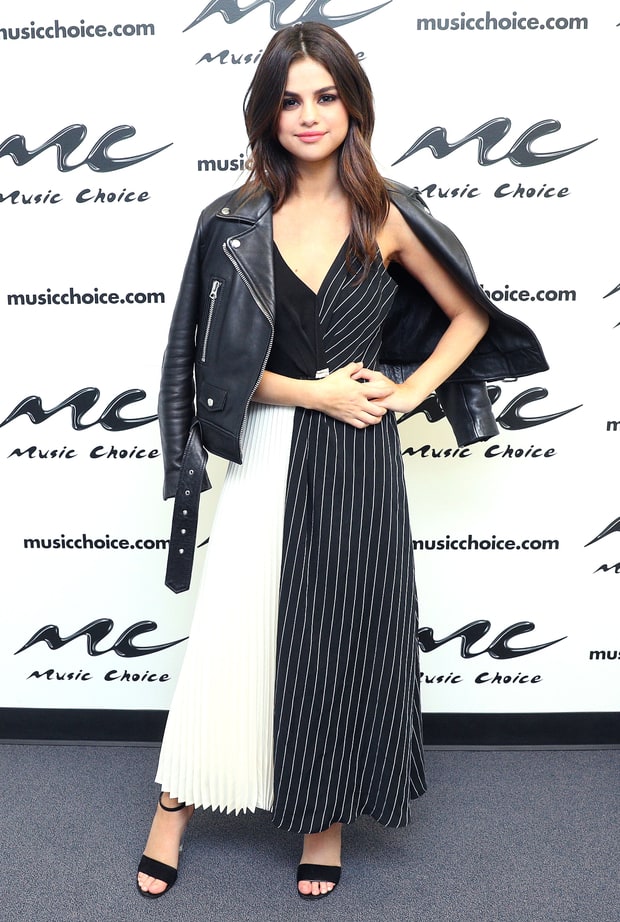 outfit no. 4
Gomez's fifth costume was a black and white striped dressed paired with a black leather jacket. She again went back to her Louis Vuitton sandals. 
Her final look was probably was her favourite. She posted three Instagram pictures in this dress. She wore a stunning cream-coloured slip dress with black lace and plunging neckline. She replaced her Louis Vuitton for a pair of Jimmy Choo heels.