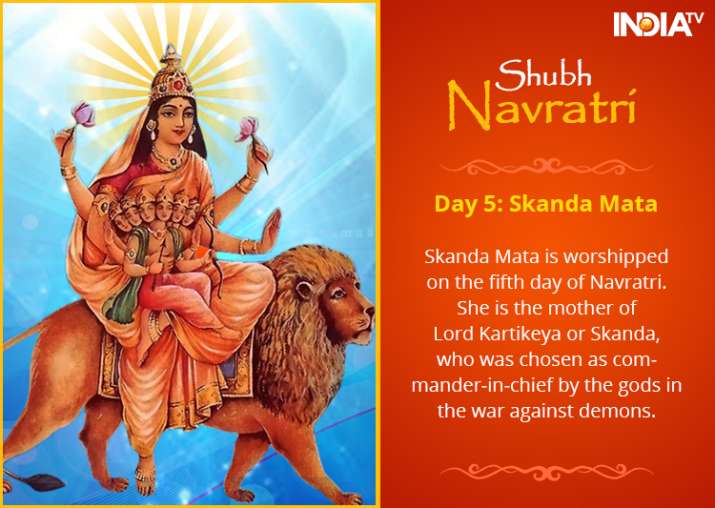 People across the country are celebrating Navratri with immense fervour and devotion. Navratri which started from Mahalaya will end on 29th of September. During nine auspicious days of Navratri, devotees worship nine avatars of Goddess Shakti. Today is Panchami, fifth day of Navratri and people offer prayers to fifth manifestation of  the Goddess, i.e. Goddess Skandamata. She fulfills wishes of her devotees and removes hurdles from their lives.
Maa Skandamata
Lord Kartikeya who is elder son of Lord Shiva and Goddess Parvati is known as Lord Skanda. When Goddess Parvati became mother of Kartikeya, she came to be known as Goddess Skandamata. She rides on lion and has four arms. While she carries lotus in her upper two hands, she holds six-headed baby Kartikeya with one hand and bestows blessings with the other. She is believed to be governing the planet Mercury. She rests on lotus flower and that's the reason she is known as Goddess Padmasana. One gets the benefit of worshipping Lord Kartikeya by offering prayers to Skandamata. She grants her devotees with knowledge and wisdom. The great Sanskrit scholar Kalidasa was able to create two masterpieces – 'Raghuvansh Maha Kavya' and 'Meghdoot' with the grace of the Goddess.
Maa Skandamata Puja Vidhi
Perform puja by following the same procedure that you have doing in last four days. Offer prayers to Kalash and then all Gods and Goddesses. Worship the fifth form of the Goddess by offering her red flowers and bhog of bananas. The Goddess also gets pleased by lotus flower. Join your hands and bow down before the deity with pure mind to begin the puja.
Maa Skandamata Mantra
You can recite Om Devi Skandamatayai Namah (ॐ देवी स्कन्दमातायै नम:) while praying to the Goddess. One can also chant this mantra in her reverence- Simhasanagata Nityam Padmanchita Karadvaya Shubhadastu Sada Devi Skandamata Yashasvini (सिंहासनगता नित्यं पद्माञ्चित करद्वया शुभदास्तु सदा देवी स्कन्दमाता यशस्विनी)
Navratri is celebrated in unique ways in different parts of the country. In Gujarat, dandiya and garba are the main attractions while devotees fast for nine days. In West Bengal, Bihar, Jharkhand, Assam, huge pandals are set up and idols of Goddess are decorated. On the sixth day, the idols are unveiled and prasad is served to people. People visit pandals in their best outfits.