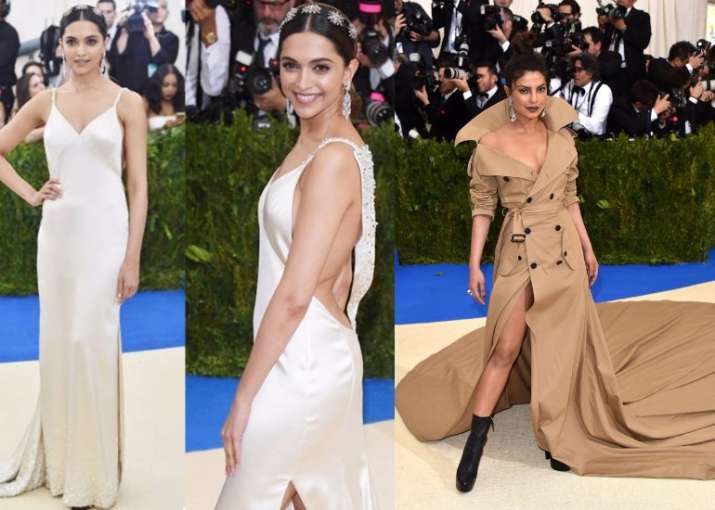 Met Gala is the grandest affair of fashion. It's the Oscar of fashion. It's a big deal to make an appearance at Met Gala. This year, Deepika Padukone and Priyanka Chopra turned heads with their aboriginal sense of dressing. Priyanka Chopra, though, got some mixed reactions. While some of the fashion connoisseurs lauded her for her bold style statement, the Twitterati trolled her for a bit whacky sense of fashion. 
But that wasn't all. There were many popular faces of Hollywood who grabbed the eyeballs for both good and bad reasons. So, let's begin the list of celebrities who stole limelight at the event. 
Deepika Padukone played safe, unlike Priyanka Chopra, at the grand event. She wore a white Tommy Hilfiger gown which compliments her curves in the most perfect ways.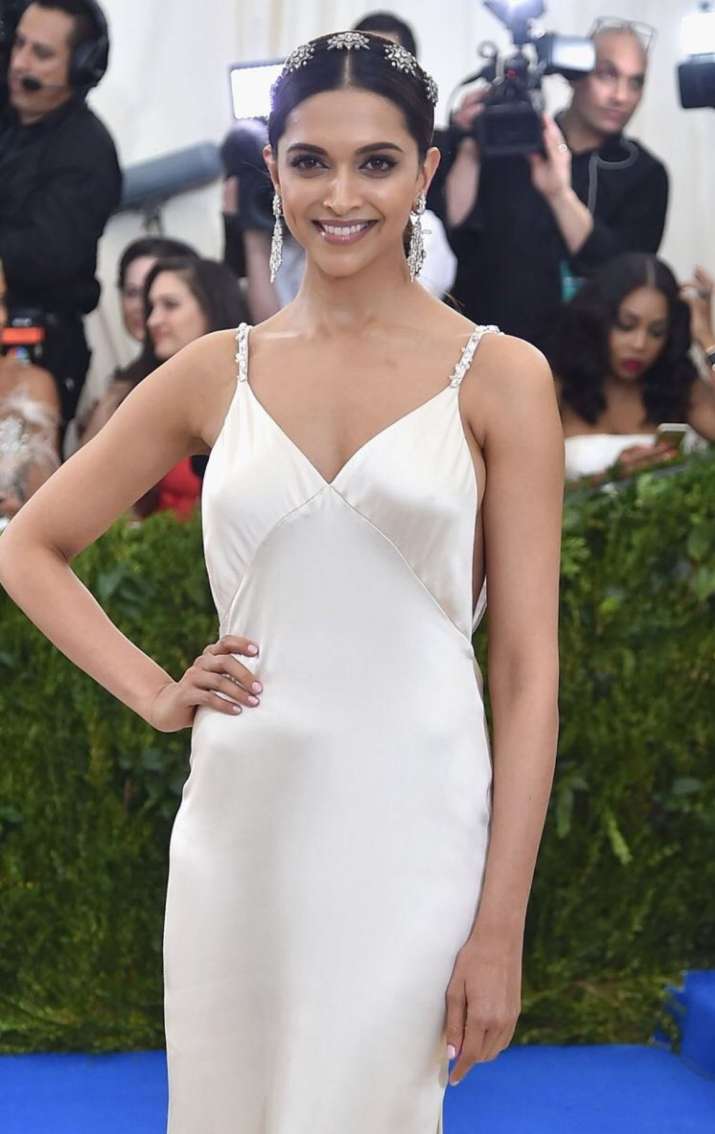 Deepika Padukone at Met Gala 2017
The xXx actress was looking worth a watch in her delicate satin slip dress. Her makeup was minimalistic that added to the charisma of the actress. But it was accessories that made a statement at her debut. Diamong earrings and star-shaped head gears gave a surreal look to the actress. Have a look.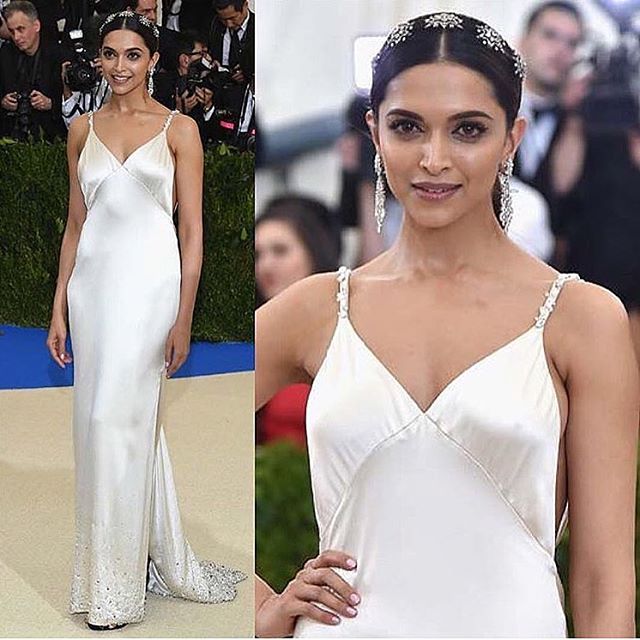 Deepika Padukone at Met Gala 2017
Piggy Chops on the other hand, got mixed reactions for playing bold. Her Ralph Lauren trench-coat gown was praised by some and trolled by many. The extreme length of the gown became the laughing stock of internet in no time the pictures went viral. But if the conclusion were drawn over her off-beat fashion sense, most of the fashion police gave a thumbs up to the Desi Girl's attire, which thereby nullifies the countless of Twitter trolls.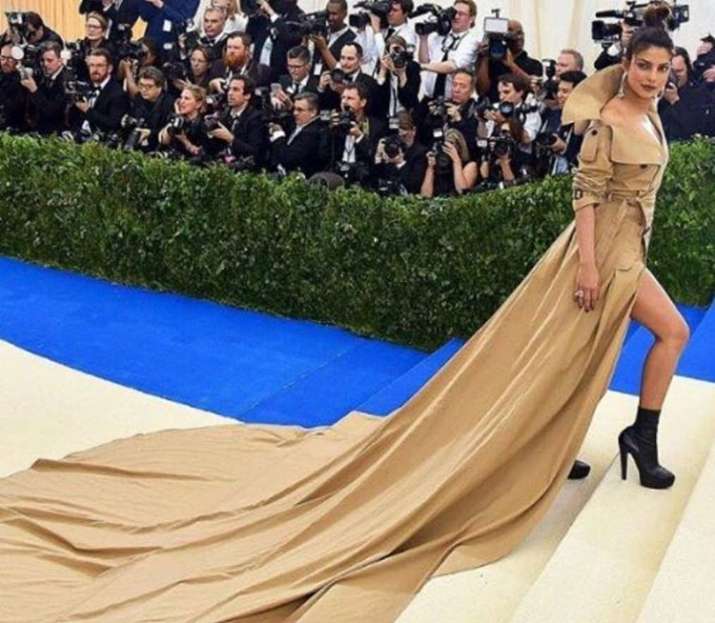 Priyanka Chopra in brown trench coat gown at met gala 2017
Also Read: Tweeple photoshop Priyanka Chopra's MET Gala dress and results are funny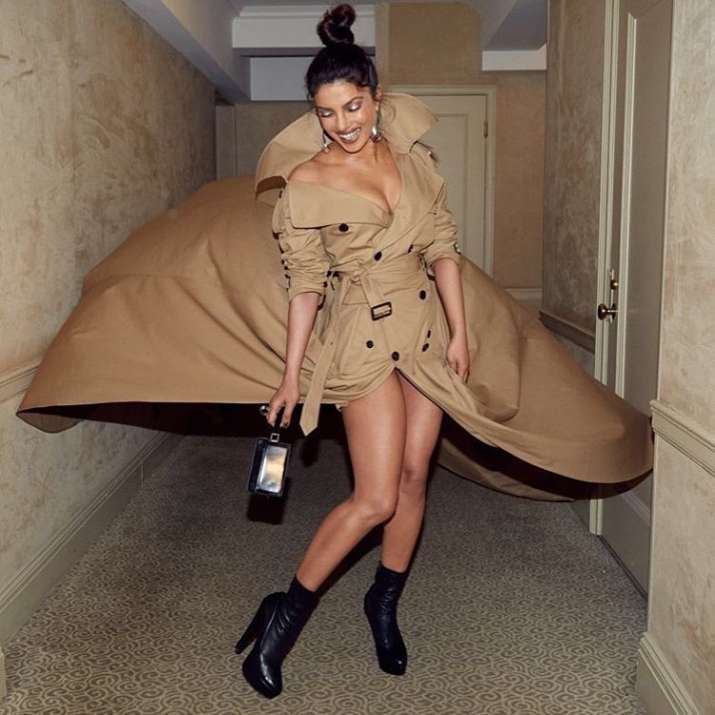 priyanka chopra at met gala 2017
Be it for the right or wrong reasons, Priyanka Chopra was trending on Twitter on Tuesday morning, which sums it up all! 
To be honest enough, Rihanna wore a dress even trickier than Priyanka's trench-coat gown. She wore a dress designed by Comme des Garcons. It looks like she was the one who took the theme of 'Avante Garde' too religiously. Her multi-layered creation was nevertheless praised by the fashion police.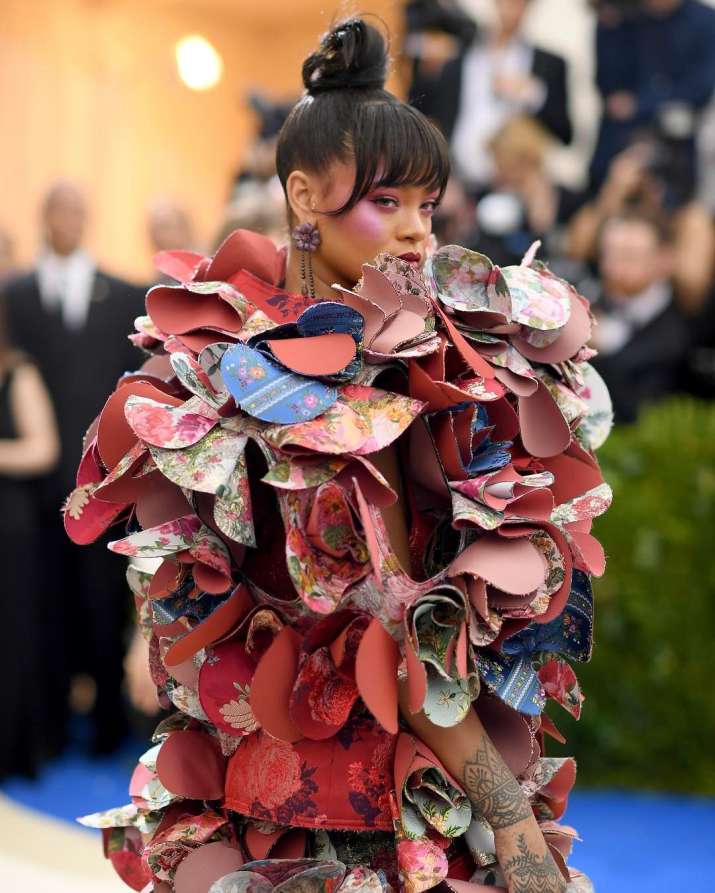 rihanna at met gala 2017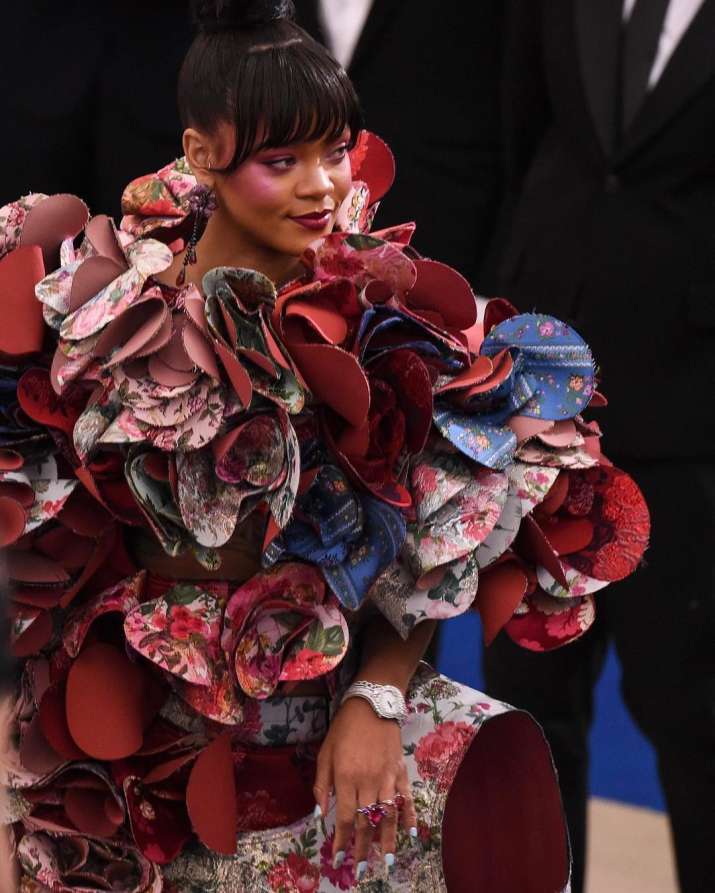 rihanna at met gala 2017
Her complete see-through dress leaves the viewers guessing. She made her entry at Met Gala 2017 in a La Perla Couture. Do you know the amazing part of this stunning ensemble? No garment was used in making this dress. Sounds crazy, isn't it? Kendall's gown was made up of 85,000 crystals which were strung together by one single thread. Though, she was a bit reluctant in wearing a 'no-fabric' dress, she looked effortless and chic in her all-crystal gown.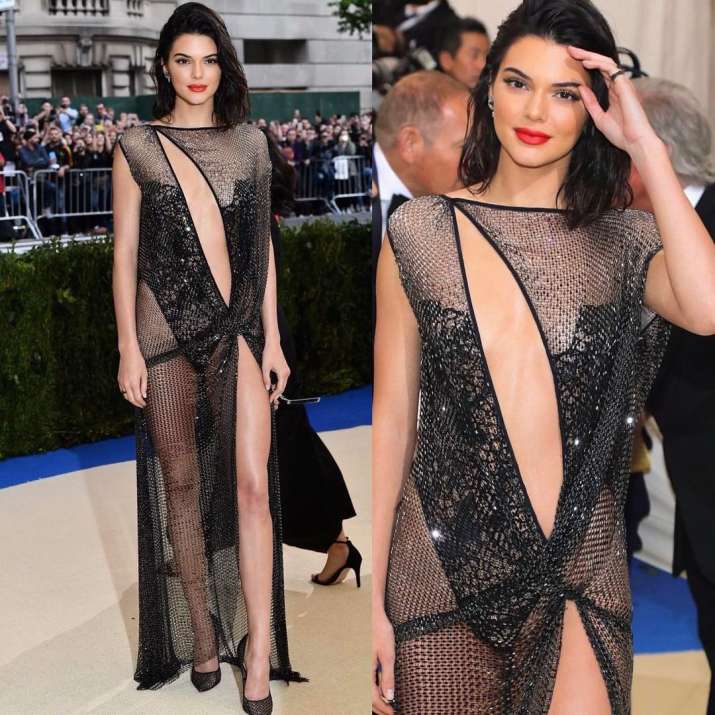 Kendall Jenner at Met Gala 2017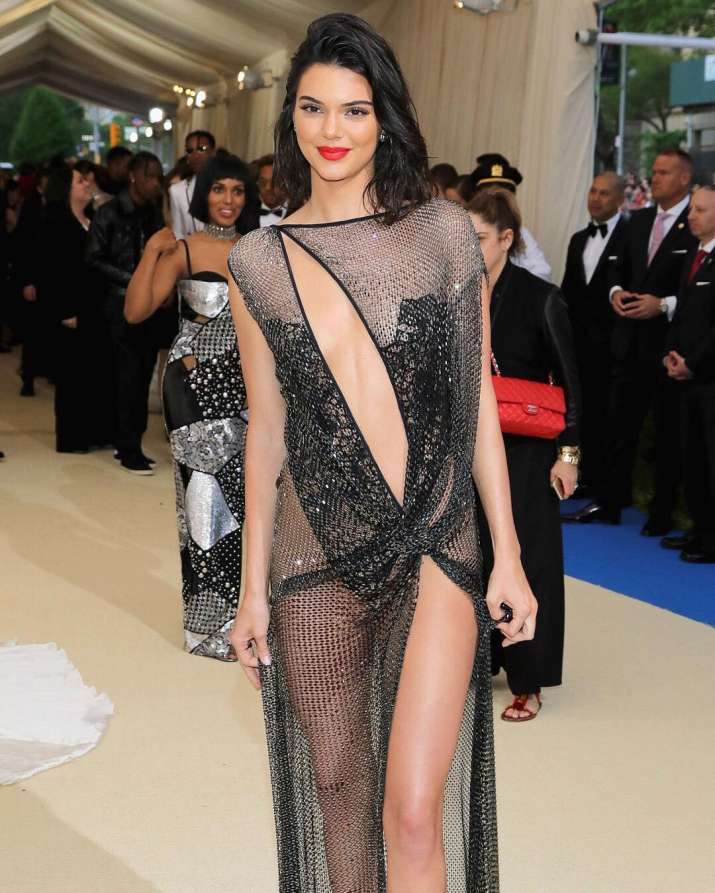 Kendall Jenner at Met Gala 2017
Katy Perry has pushed all her fashion limits to the edge with this ensemble of hers. She wore a creation from Maison Margeila titled 'Artisinal'. Her dress consisted of layers, layers and too many layers all painted in the colour of scarlet red. Her veiled headpiece made her look otherworldly. But that was the theme all about. Kudos to her look and for her confidence with which she pulled off the dress so well.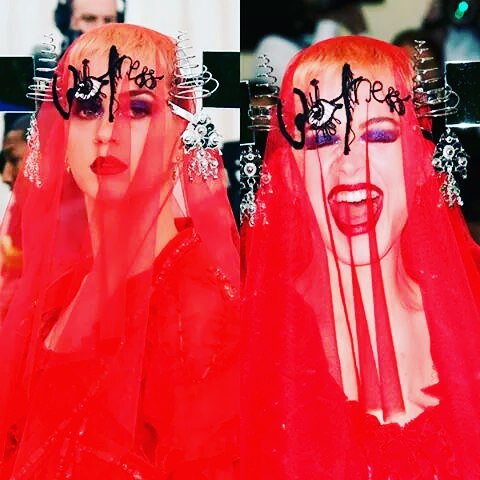 Katy Perry at Met Gala 2017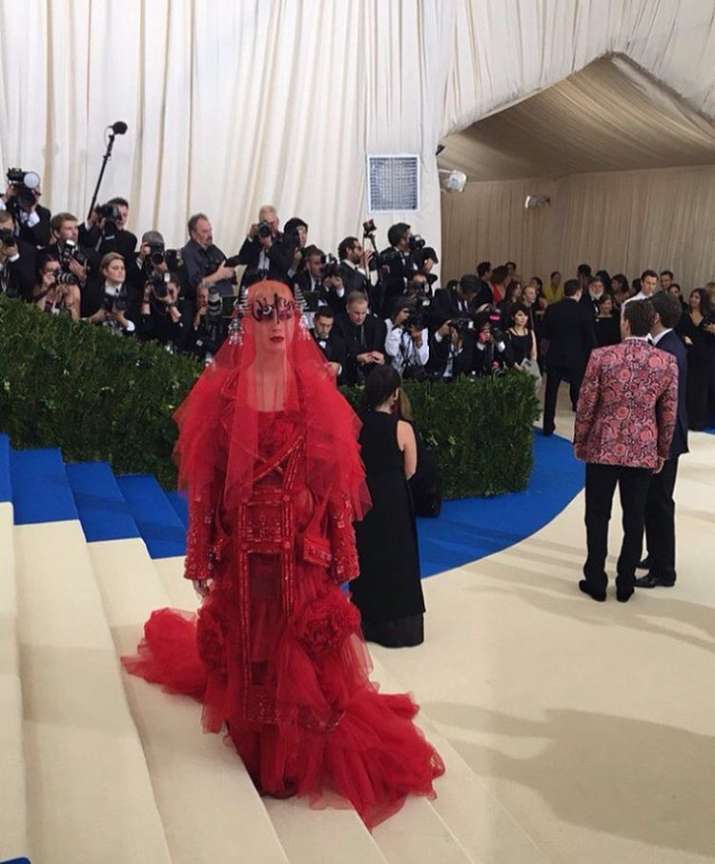 katy perry at met gala 2017
Also Read: From Priyanka to Deepika: When celebs got trolled for their bold fashion statements
The fiery-hot actress is always confidence in whatever she sports. She appeared sans hair on her head. She has shaved her head to zero hair for her role of a cancer patient in a movie. She embellished her bald head with silver paint and crystal. She complimented her silver-coated scalp with metallic grey and black body suit by Chanel. Her complete ensemble makes her look like a 'woman in steel'. But surely she grabbed the eyeballs as usual for her fashion game. 
cara delevingne at met gala 2017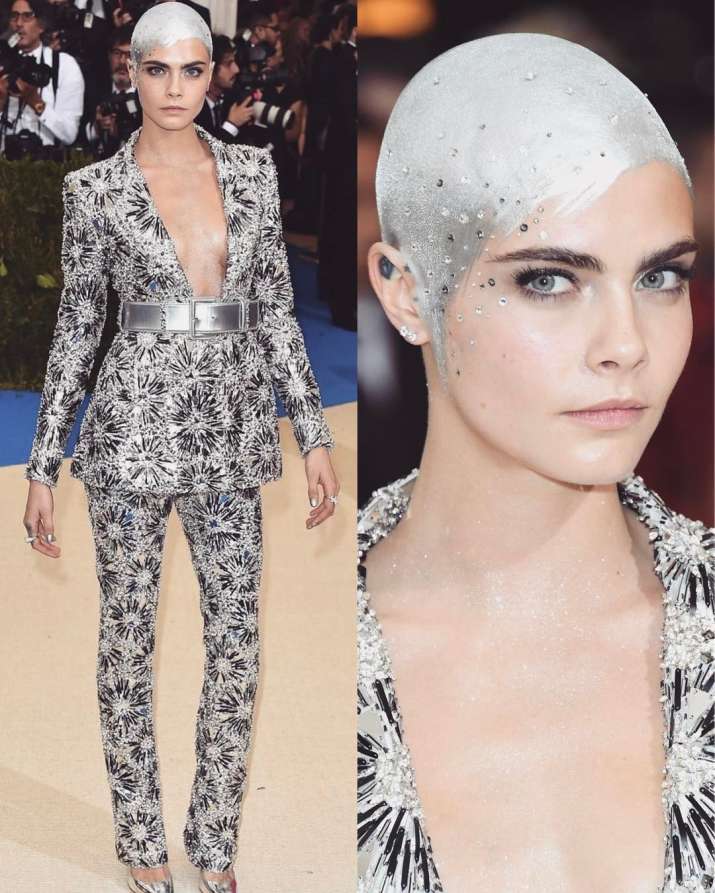 cara delevingne at met gala 2017