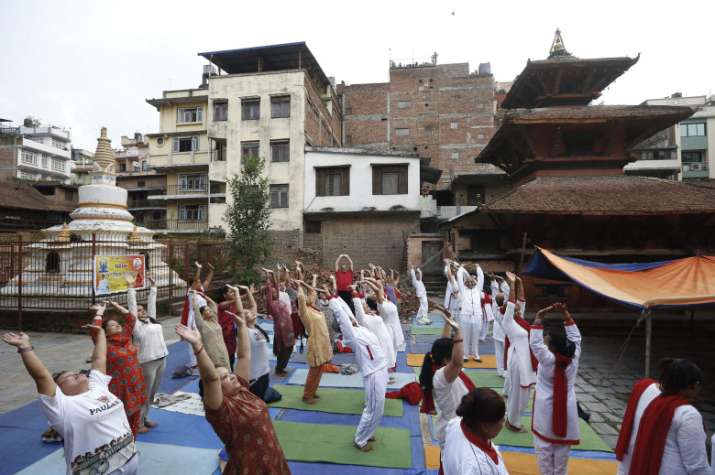 On International Yoga Day, Nepali Prime Ministr Sher Bahadur Deuba appealed to the people to adopt a healthy lifestyle by embracing Yoga in their lives. He made the appeal while address a mass Yoga demonstration ceremony in Nepal on the occasion of International Yoga Day today, a Xinhua news agency reported.  Deuba also claimed that Yoga helps attaining internal peace and harmony and asked all the people to be healthy and prosperous through regular practice of Yoga. Today, 21st June, is being celebrated as International Yoga Day worldwide, foundation of which was laid by Prime Minister Narendra Modi in 2015. 
"Yoga is an ancient discipline which is essential for both mental and physical health. Yoga helps to have healthy body and health mind and in overall, a balanced life," Deuba said.
Along with the yoga practitioners, Deuba also attempted the soothing "Om" chanting and expressed commitment for building a healthy society. Dressed in Nepali formal dress, Deuba demonstrated standing yoga postures to encourage the participants.
This is the second year the Nepal government formally celebrated the International Day of Yoga, which was declared by the UN. Ministers, MPs, dignitaries and hundreds of people from different walks of life jointly performed yoga postures despite heavy rainfall since early morning.

Yoga has been gaining wide popularity in Nepal in recent years. It is regarded as an invaluable gift of ancient tradition and most essential for a healthy life.
Yoga instructor Mohan Man Shrestha told Xinhua: "I am teaching yoga for 10 years. If we continued yoga every day, we should never visit hospitals or doctors. It's good for both physical and mental health.
"I am 64 years old but I have never taken any medicines or visited hospitals. It has been possible only through yoga," added Shrestha.

According to instructors, most yoga practitioners in Nepal are women. They gather in local yoga centers or available spaces every morning and practice different postures. Since health problems like gastritis, diabetes and uterus ailments are common among Nepalese, they regard yoga as a perfect medium to fight such diseases.
(With IANS Inputs)