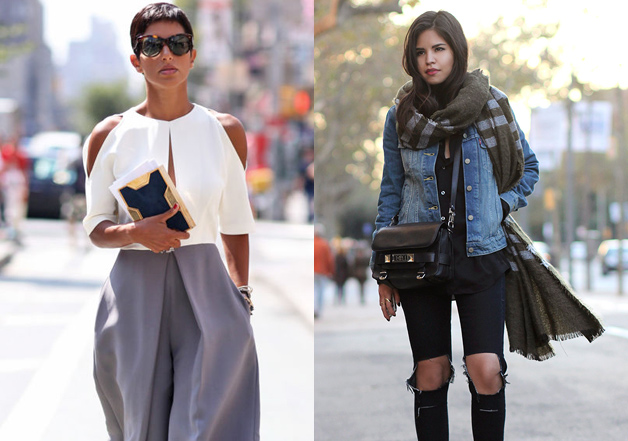 New Delhi: With summers gone and rainy season here, it is just the right time to give your wardrobe a twist. This year has been particularly amazing in terms of fashion and it is about time you brought those trends to your day to day collection.
If you are confused as to what to shop and what to leave, we are here to your rescue. An expert from the fashion world revealed fashion staples which will help you make a statement in the coming months. They include cold shoulder, busted knee jeans and many others.
Have a look:
1. Cold shoulder - The most important purchase you can make at the moment is investing in cold shoulder tops and dresses. Trust us when we say this is an investment as you'll be wearing this trend right up to winter. However, don't overdo the accessories and keep in mind the 'less is more' mantra.
2. Boyfriend shirts - Women aren't interested in menswear, right? Wrong! Breaking the dated gender rules the fashion industry has been surviving on for so long, women are now scouting men's section for their daily fashion fix. Boyfriend shirts are what you need if you want to put your stylish foot forward. Pair these oversized, longline shirts with skinny jeans, cropped trousers or high-waisted skirts.
3. Busted-knee jeans - These are the more polished version of distressed jeans. The thin rips on the knees take your otherwise trendy jeans a step further. Wear your busted-knee jeans with a tucked-in shirt, classic pumps and you're ready for casual Fridays at work. Alternatively, pair them with white sneakers and a crop top for a laid back weekend look.
4.  Candy apple lips - If you swear by beauty bloggers and international make-up artists then you already know that candy apple lips are a rage this season. This glossy, candy-red version is everywhere, from ramps to red carpets. While bold red lips have never been out of style, this particular shade has united the beauty world like nothing else.
5. Sliders - Zipping about to work, catching a movie with friends, brunching with the family or enjoying a beach vacation; all can be done in a pair of the season's favourite footwear - sliders. From pale pinks to metallic gold, they come in a variety of colours. This unpretentious yet practical footwear is high street fashion's blue eyed boy.
With inputs from IANS