Follow us on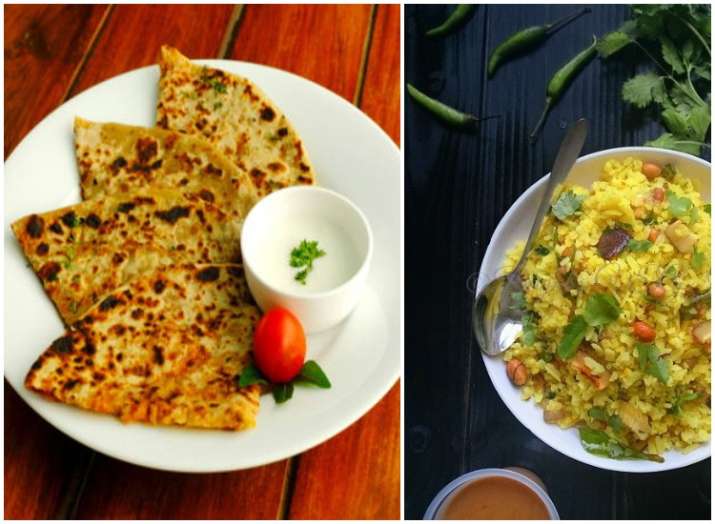 Every day, every morning, all of us are annoyed at one single question which is -What to have for our breakfast? We believe if we can answer this question easily, there is nothing difficult ahead in your day because what to have for breakfast is this much difficult to decide upon. While we sometimes agree on fancy breakfast items like pancakes, bruschettas, and cereal; other days we are surely back to our desi Indian breakfast items including yummy-licious paranthas, upma full of veggies, and puffed poha in yellow mellow.
Hence, the food cravings for Indian breakfast items are never-ending and we admit that whatever we have for our breakfast, the stomach-filling and a satisfying item is just a parantha. So, apart from our most favourite aloo-parantha, there are many other food items we should try in the morning, the list is below!
Besan Cheela
A popular breakfast dish in North-India, cheela is made from gram flour and spiced up with green chillies. Cheela looks like a chapati and can also be prepared with semolina. For extra health nutrients, add diabetic friendly ingredients like oats, making the cheela fiber-rich, nutritious and gluten-free.
Upma
A South-Indian breakfast dish which does not take more than 20 minutes to make, upma is full of nutrients as it is cooked with several veggies. Make little preparations a previous night and you are sorted the for your first meal of the day.
Tip: There are a variety of upma recipes that you can try at home. Semolina upma, rava upma, oats upma, or upma cooked with vermicelli -these are options you can explore when it comes to upma.
Gujarati Methi Thepla
Gujarati Methi Thepla is a thin Indian bread that is made from whole wheat flour, fresh fenugreek leaves and Indian Spices. This dish can be eaten and stored for a few days, hence, perfect to cook on a lazy Sunday and eat throughout the week.
Bun sandwich
Bun sandwiches are instant to make. Using a sandwich's blend and putting it in between buns is a delightful Indian way to have a breakfast. This is perfect when you are running late or have to eat your breakfast on the go.
Poha
You can't deny the fact that Poha is the ultimate breakfast for Indians. Each of the regions in India has their own special recipe when it comes to making poha. Similar to upma, there are a variety of upma recipes that you can try at home.
For all the latest Lifestyle updates, check out our Facebook page!