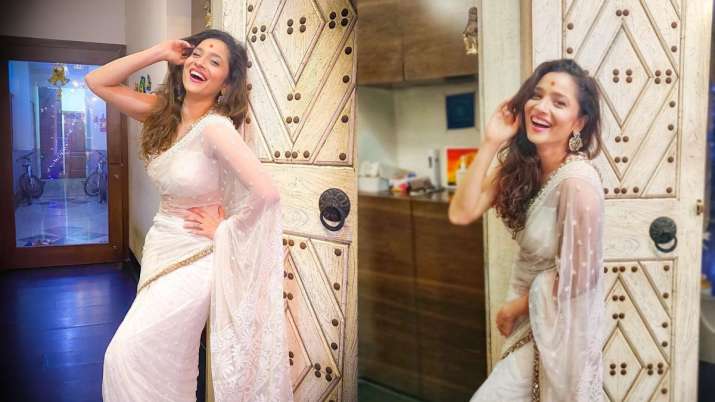 Ankita Lokhande, who has been in news due to Sushant Singh Rajput's sudden death controversy, has recently found her mantra to be happy 3 months after the actor's death. The actress and former girlfriend of late actor Sushant Singh Rajput, took to Instagram and shared a picture where she looks stunning in a white sari and is smiling at the camera.
"How to be happy! Decide every morning that you are in a good mood," she captioned the image.
Ankita and Sushant were together for six years until their break up in 2016, but she still remains close to his sisters. The actress also recently posted some pics of the saplings which she planted in the memory of Sushant. Her pics also feature her dog Hatchi.
"Hatchi and mamma. My partner in almost everything, Planting plants seedling. It's our way to remember him by fulfilling his dream," she captioned the snapshots, tagging them #plants4SSR.
Ankita has been clear in her support for Sushant's family in their stance against the late actor's girlfriend, Rhea Chakraborty. Meanwhile, in the late actor's death case his last girlfriend Rhea has been accused of drugging and stealing from Sushant Singh Rajput, which subsequently led to abetting his suicide.
Ankita had written about Rhea's arrest saying, "Would anyone, who claims to have loved someone so deeply, allow the other person to consume drugs claiming to know his mental state and condition? Would you do that? I don't think anyone would." 
Sushant was found dead at his Mumbai home on June 14. Initially, Mumbai Police had said it was a case of suicide. Now, his death is being investigated by CBI, Narcotics Control Bureau and Enforcement Directorate. (With inputs from IANS)