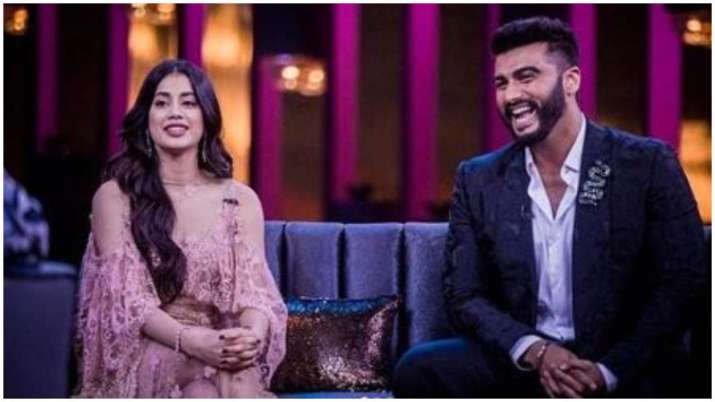 Continuing with the family pairing in this season of Koffee With Karan, siblings Janhvi Kapoor and Arjun Kapoor will be grilled by Karan Johar on November 25 episode of the celebrity chat show. For Janhvi, it is pretty much like coming home as she was launched with the Dharma production named Dhadak and that is why the promos show how much fun Karan has pulling her leg. There is more, of course, with Arjun's rumoured love life coming up for discussion.
This season has already seen the likes of Deepika Padukone and Alia Bhatt, Ranveer Singh and Akshay Kumar, Aamir Khan, Malaika Arora, Saif Ali Khan and daughter Sara Ali Khan grace the couch.
Whose dating secrets will be revealed on #KoffeeWithKaran? #KoffeeWithArjun #KoffeeWithJanhvi pic.twitter.com/zK9Kcg5DoX

— Star World (@StarWorldIndia) November 18, 2018
Here are the LIVE Updates for Koffee With Karan 6 Episode 6 
9: 50 PM; Janhvi Kapoor wins the rapid fire round. The quiz round begins. Arjun got freaked out with questions being asked about international singers and Kardashians. He blamed that Karan is being partial towards Janhvi. Then Arjun came back with a bang and went on to win. The funniest part was when both had to call their family members and when Janhvi called Anshula, she didn't say, "Hey Karan! What's up?" Arjun took away the prize as his dad Boney Kapoor replied!
9: 45 PM: When Janhvi was asked about her take on Nepotism, she said, "RIP! Hopefully." An Insta bio for Sara Ali Khan, Janhvi said, "The new Khan on the block!" Ishaan Khatter, she said, "I live beyond the clouds." When she was asked about her bio on a dating app, Janhvi said, "Cute but psycho." It came as a shock when Janhvi revealed that she hasn't seen Kuch Kuch Hota Hai and will be watching it before the 20 years celebration of the movie's evet. Janhvi finds Shahid more talented as Ishaan as the hotter brother!​
9: 35 PM: And the controversial and fun Rapid Fire Round begins! Arjun revealed that his guilty pleasure is Kabhi Khushi Kabhie Gham. When he was asked about who would give a better relationship advice between Ranveer Singh and Varun Dhawan, he said they can never give any advice. Arjun went on to reveal that Ranbir Kapoor gave him a relationship advice and the relationship ended the very next day. He said, "He told me, "If you're not happy, let it go." It was an Imtiaz Ali moment. So, never take relationship advice from Ranbir."
9: 25 PM: Arjun Kapoor makes it official on Koffee With Karan 6 that he is in a relationship. When Karan asked him about introducing that aspect too the family, he said, "It has to fall into the place. There's a lot that's happened in the family in the last few months. A lot has happened in my life in the last few months that has given me the perspective. Last six months have taught me more about life than I have imagined."​
9: 22 PM: When Janhvi was asked about whether she is dating Ishaan Khatter or not, she said, she doesn't know the meaning of dating and then she denied that she is not in a relationship with him. ​
9:20 PM: Arjun and Janhvi revealed that Boney Kapoor and his children have a WhatsApp group named 'Dad's kids'. On the group, Boney shares throwback photos of himself and tells that he is handsome among the siblings and his daughters should find a man who is handsome than him. ​
9: 12 PM: Arjun on being asked about the most bizarre and unfortunate coincidence of he and Janhvi losing their mothers just before their debut film Arjun said, "I think, we both, and of course, Anshula and Khushi are included in then I say that we've had our backbones snapped and handed a new life to deal with. So, it's like being handicapped for the rest of eternity but learning how to walk again and deal with perhaps the most amazing life you're gonna get to be an actor, to be loved by the world, to be watched on the big screen is everything and more that one dreams of achieving".
9: 10 PM: Janhvi Kapoor talks about Sridevi's demise. This was one of the most shocking and saddening incidents which took place this year. Arjun and his sister Anshula Kapoor united with Janhvi and Khushi Kapoor after this incident which was overwhelming for everyone. Talking about the same Janhvi said, "I think I found, for me to just cling on to it, as hard as I could. That's how I looked at it and that's what I have been doing it. It just brought a sense of security, comfort and love."​
9:05 PM: Janhvi Kapoor reveals that she has grown up watching the show and also used to rehearse rapid-fire questions with herself. It was cute and funny to see that, despite being a millennial Janhvi didn't know the meaning of "hook-up" and "dating".​
9 PM: It's Sunday and the new episode of Koffee With Karan 6 featuring Arjun Kapoor and Janhvi Kapoor with host Karan Johar begins. The director talks about his struggle with being fat during his school and college days. KJo welcome Arjun and Janhvi Kapoor on to the hot seat.