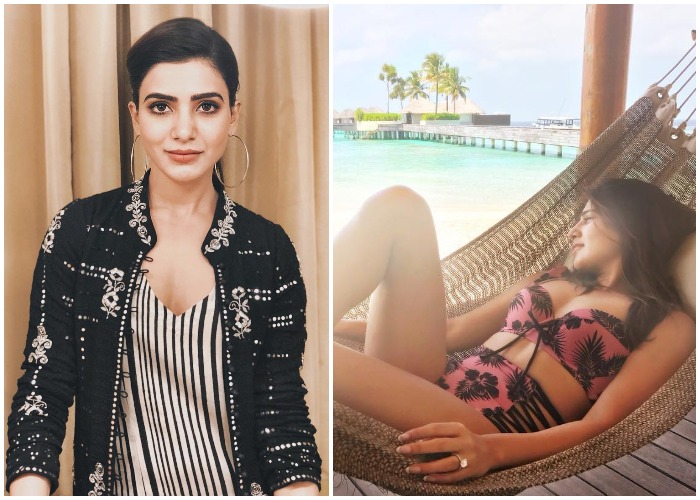 Samantha Ruth Prabhu, who is now Mrs Akinneni, was having some me-time at a beachside resort. She also posted pictures of her vacation on social media to keep her fans updated. But little did she know that her holiday pictures might become a fodder for these vile trolls lurking on the world wide web. What happened was, she posted a picture in a bikini a couple of days ago. In the picture, the gorgeous actress is wearing a chic black and pink bikini and lazing on a hammock. But this didn't go down well with those people who have their thinking as small as a matchbox. Soon she was surrounded by vicious remarks in her comment section.
Posting the picture, she wrote, "This isn't a want it's a NEEEEED!!!! #tired #tired #tired #tired Is it vacation time yet?"
This picture has 4 million likes so far but sadly in less than 24 hours, it was filled with hate remarks of those who have nothing better in their lives than moral policing people. Though, some fans came to her rescue, trying to shut the trolls down. But Samantha Ruth Prabhu herself wasn't happy the way people were responding to her happy post. She took the matter in her hands and decided to shut them down like a boss.
She wrote, "Well... now I had to go and put up a quote .. because my previous post didn't really scream ' I WRITE MY RULES YOU SHOULD WRITE M̶I̶N̶E̶ YOURS !!"
We wouldn't like to quote the despicable comments Mrs Akinenni was getting on her post and they don't deserve hype either. But we loved the way Samantha Ruth Prabhu slammed the trolls and put them in their place. There's lot of better works to do than putting noses in others' business.