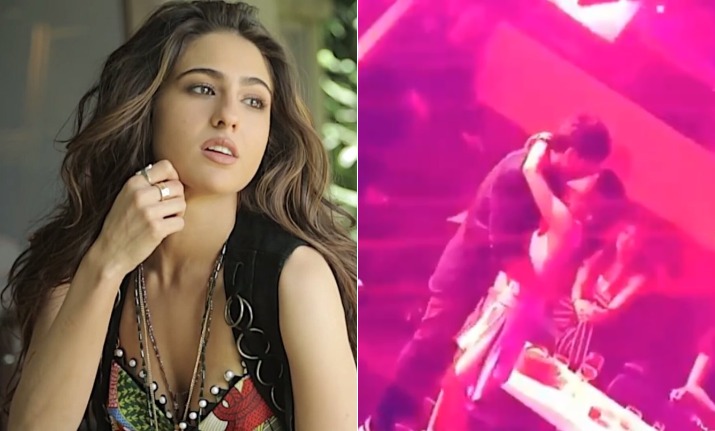 Fans are waiting with bated breaths to get more information about Sara Ali Khan and Kartik Aaryan's first project together. It was confirmed last week that the duo has been signed in by Imtiaz Ali for Love Aaj Kal 2. Days later, Sara and Kartik left for Delhi, where they will be staying for a month to complete the schedule with director Imtiaz Ali. Now, a blurry video which allegedly shows Kartik Aaryan and Sara Ali Khan kissing goes viral on the internet. It is being said to be from the sets of Love Aaj Kal 2. However, nothing can be said to comment on the authenticity of the video. Fans are well convinced that they are no one but Sara and Kartik locking lips.
Omg!! Just saw this video on insta ahhhh is this really Sara and Kartik?! #KartikAaryan #SaraAliKhan pic.twitter.com/CEREKKDJoL

— 🌹 (@meenaxsara) March 5, 2019
Sara Ali Khan has been upfront about her crush on the Luka Chuppi actor. She has time and again asked him to ask her for a coffee date. Kartik also has dodged the questions smartly in different ways. If the video really has Sara and Kartik in the frame, then fans are about to go crazy for Love Aaj Kal 2.
Love Aaj Kal is a 2009 hit film which had Sara's father Saif Ali Khan and Deepika Padukone in the lead role. The film is getting a sequel after 10 years with Saif's daughter in the lead role. Earlier it was reported that Saif will also be the part of the film however, he refuted the reports sayind, "I'm happy to sell my stake and not be a part of the film. It's a business deal."
What do you think about this fresh pairing Sara Ali Khan and Kartik Aaryan?