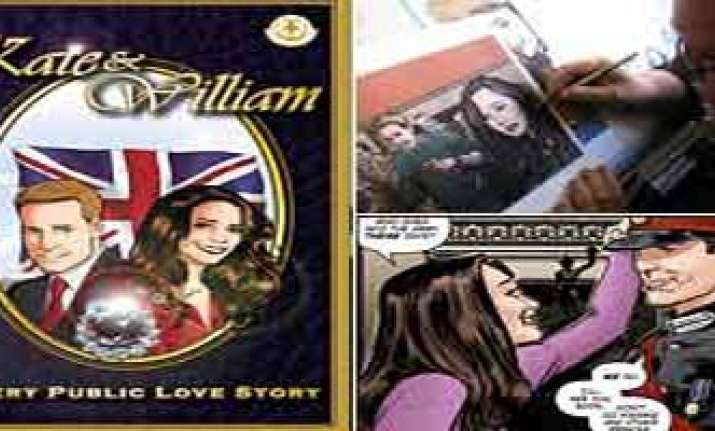 Cardiff/London, Feb 13:  Comic superheroes such as Batman and Spiderman have a new rival - in the form of Britain's Prince William.The royal romance between Prince William and Kate Middleton is being chronicled in a graphic novel due out in April, just before the couple gets married.
It's called "Kate and William: A Very Public Love Story", and it tells the story of a beautiful girl who goes to university and wins the heart of a handsome prince.
The comic is a fusion of two stories, each with its own graphic style.The first is William's life story, drawn in an artistic style that echoes the all-action comic heroes of the 1950s.
The second is told from Kate's perspective, based on romantic comics popular with British schoolgirls.The publishers, Markosia Enterprises, released a number of comic panels ahead of publication.One panel shows William drinking with friends at a university bar and enjoying the company of other women, seemingly unaware of Kate's hurt feelings.She watches from a corner, looking crushed.
Cartoonist Mike Collins, working on the sketches from his studio in Cardiff, says Britain has a long tradition of romantic comics for girls, in which the female lead dreams of meeting someone famous and falling in love.The royal wedding is a real-life example of that, he comments.
Collins describes the royal couple as great fun to draw - Kate because of her flowing hair, and William because of his "classic" features.Other scenes in the novel blend fact and fiction.
Readers see the couple enjoying a kiss, and trying to evade paparazzi on the ski slopes of Klosters. William is seen striking a manly pose in his army and air force uniforms, while Kate looks up at him admiringly.The story was conceived and written by Rich Johnston, a graphic novelist based in London.
Johnston, who is also a prominent political satirist, conducted extensive research before putting pen to paper, discovering, among other things, the pet names that William and Kate apparently have for each other.She calls him "Big Willy" and he calls her "Babycakes ", Johnson claims.
Not every couple would want their private life retold in cartoons and speech bubbles, but Johnston expresses the hope that William and Kate will read the comic and enjoy it.
It's better than seeing themselves on a plate, he jokes, referring to the many commemorative china items on sale to mark the wedding.AP