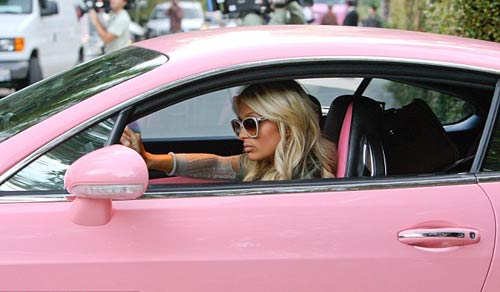 In the world of Paris Hilton, it is perfectly mundane to own a customised Bentley in your favourite colour.
So it is not surprising that the heiress would hire a moving company that matched her own luxury wheels to help her move.
The 29-year-old was filming her new reality series outside sister Nicky Hilton's home in Beverly Hills.
Dressed in ripped jeans, a sheer grey vest and army green short-sleeved jacket, Paris looked bored as she waited for camera crews to set up.
Wearing a pair of leopard-print Christian Louboutin heels and white-framed sunglasses, the blonde businesswoman paced the driveway and practised her poses next to her Bentley Continental GT.
Miss Hilton purchased the £135,000 vehicle as a present to herself in December 2008.
The car, which was customised by West Coast Customs, the same company that features in MTV makeover show Pimp My Ride.
The camera crew shot scenes of Paris being helped by moving crew from the Pink Moving company to carry boxes out of her sister's home.
She then drove off, followed by the matching pink removal van.
Paris has been filming an upcoming show with members of her family for several months now, and keeping her three million Twitter followers updated about it.
She has just returned to Los Angeles after business trips to Hawaii and New York.
This week Paris jetted to Molokai with her boyfriend Cy Waits to shoot an advertising campaign for her range of handbags.
Before that she was in New York with Nicky, 27, for business meetings and to attend the Victoria's Secret fashion show.
The night before filming the scenes in Beverly Hills, Paris met up with her friend Brooke Mueller, Charlie Sheen's ex.
She wrote on Twitter: 'Met up with my girl Brooke and her adorable twin boys for dinner. They are so cute and sweet. She's an amazing mom, and great friend. Love her.'