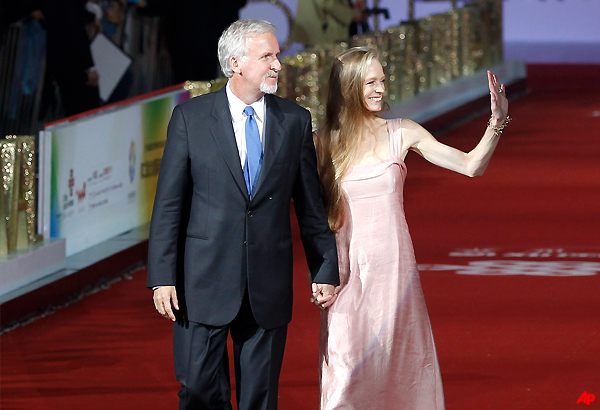 Beijing, Apr 24: Hollywood director James Cameron said he was eying co-production opportunities in China on Sunday while he attended the 2nd Beijing International Film Festival
The director who brought the world films like 'Titanic' and 'Avatar,' said that he would have to weigh the restrictions and censorship in the country. Both films were huge successes in China.
"There are a number of potential business opportunities that we are here to explore Jon Landau, Jim Gianopulos and myself, to talk about the possibility of co-production and to look at some of the incentives that are available and also way that against some of the restrictions and restraints that need to be met in order for us to come into a co-production. It is something that we are looking at very seriously. "
Sitting next to Wendi Deng, the wife of out of favor media tycoon, Rupert Murdoch, Cameron said he was excited about the prospects 3-D films had in the Chinese market.
"Not only has China proven that it is a market very, very interested in 3D and the 3D films have been very successful here I think there is an untapped potential for broadcast 3D in this country as there is around the world but it is potentially a huge market for broadcast 3D in the home as well as in cinemas which I am also exploring."
American studios have taken a keen interest in China especially since Vice President Xi Jinping in February signed a deal in his visit to the United States allowing more international films to be important to China, especially in Imax and 3-D formats. China will not allow an extra 14 foreign films into the country every year.
Cameron, who is no stranger to bringing technology into storytelling, said that China had an average 8 cinemas being built in the country per day and that many of the theatres are 3-D ready.
The 2012 Beijing International film festival is the second in the city's history. Stars flocked to the red carpet event marking the official start of the festival.
Zhang Zi Yi was the first on the red carpet wearing an airy white dress followed by her "Mission impossible 4" co-star Jeremy Renner.
Other stars at the event included Hong Kong actor Guo Fucheng, singer Wang Lee Hom, director Feng Xiaogang and actress Fan Bingbing.