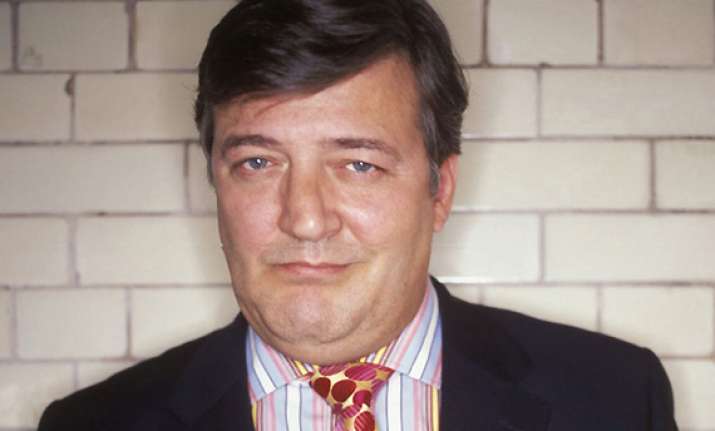 London, Feb 9: This year's BAFTAs have the starriest line-up to date. Stephen Fry, who's set to host the show on Sunday, reckons soft and welcoming is the way forward.

"The point of the introduction I suppose is to in a sense to calm everybody down, it's a room full of nervous people," Fry explains.

"They are thinking, 'Mine's coming up in five categories' time, oh God, oh God, oh God.' There's also a television audience out there who want to be welcomed into it and don't want to feel that they're just sort of eavesdropping on a private party."

The Orange British Academy Film and Television Awards have grown in popularity and importance in the award season circuit gradually, and this year play host to an array of Hollywood talent.

Brad Pitt, George Clooney, Meryl Streep, Christina Ricci, Cuba Gooding Jr, Jon Hamm and Pen?lope Cruz are all set to attend, along with an extensive list of home-grown stars - Paul Bettany, Colin Firth, Daniel Radcliffe, Helena Bonham Carter, Jim Broadbent,  Dame Judi Dench, Kenneth Branagh,  Ralph Fiennes, Tilda Swindon, Gary Oldman and Michael Fassbender.

Fry believes the astonishing span of genres is one of the BAFTAs' fortes, with a contenders' list that includes a spy thriller, a violent road movie, a silent film and a gross-out comedy.

"You have a film like 'The Artist' - which is just breathtaking to think that at a time when everyone is going on about 3D and different types of ways of moving cameras, zipwires and flying cameras and extraordinary cranes that can turn around corners and act like dragons, here's a film that goes back and is silent. I don't want to give too much away, I don't think that's a spoiler," he starts.

"You've got a film like 'Drive' and you think 'Well oh a road movie type film, a chase and a thing and then violence,' and yet it just shows that when things are done well, when it's done really, really well, it's marvelous. 'Tinker Tailor' which is a totally different kind of film again."

And the theme of surprise continued with 'Bridesmaids:' "When I saw there was a film called 'Bridesmaids' I thought 'It's gonna have Jennifer Aniston and it's gonna be sniggery people and some awful romy comy thingy.' And I watched it and I laughed my head off and thought it was absolutely marvelous."

Nothing however beats the joy of knowing that John Hurt will be honored with the Outstanding British Contribution to Cinema Award this year.

"Our outstanding contribution to British cinema is John Hurt, a man who's oddly enough somehow not celebrated enough," Fry muses.

"He's been in films for years and years and years and has done a huge variety of performances. Of course the high point that everyone remembers are things bursting out of his chest in 'Alien' and his absolutely unbelievable performance as the Elephant Man in the David Lynch film which is simply wonderful, but he's been in so many other things. He was in 'Contact;' I had the good fortune to work with him in 'V for Vendetta' and we had a great time."

Martin Scorsese is also set to be celebrated - with an Academy Fellowship. "I don't think there will be a single person in the room who doesn't think he is one of the greatest contributors to cinema there has ever been," Fry concludes.