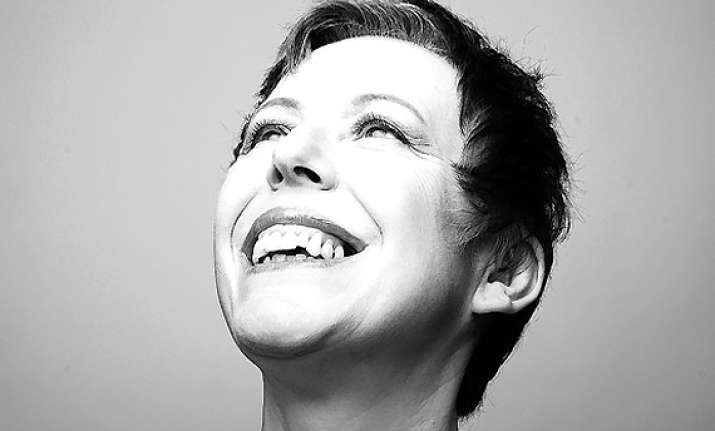 New York, Apr 8:
Multi talented singer and songwriter Barb Jungr has released a second album of Bob Dylan interpretations called "The Man In The Long Black Coat " last month. This follows an earlier album interpreting his songs called "Every Grain Of Sand" which was released in 2002.
Jungr's Dylan interpretations have been praised by the likes of Billy Bragg, Jeremy Irons and the Wall Street Journal and set the standard for intelligent, sensitive and surprising re-imaginings of the master's work.
"The album has been a really exciting journey I suppose cause  I did the first Dylan collection in 2002 " Every Grain Of sand " and that is now, or people say it is a cult classic" explains Jungr.
" The Wall Street Journal were really nice about it and said it was the most important vocal album of this decade, which was very nice of them, and I did not pay them for that "
Barb Jungr, who is also a composer and writer, clearly has a thing with Bod Dylan. "I think it is his capacity to  excavate the human psyche, he somehow understands people, I don't think it is an easy thing to live with." she says.
" I have got rose glasses on you know I always want to believe the best of everybody and see the best thing but I think Dylan can look at something and see exactly what it is and that must be very difficult to live with, but having done that I think he is capable of writing about it in a way that is so exciting and so allegorical, and he draws on everything, the bible .."
Jungr was born in the North of England 1954 from mixed Czech and German parentage, her career has spanned many years and the ability to say yes to things and challenge herself has helped her keep going.
" I think saying yes to things is a really good idea and ages and ages ago, it was on Woman's Hour, there was this lady and she lived on one of those little islands, like the Orkneys, somewhere like that, there is nothing, just bare ground, and she kept chickens, and they said
'Why are you here?' and she said ' because I have always said yes'  and somebody said ' do you want to run some chicken farm on the Orkneys and I said yes' and her life had been extraordinary because she always said yes to things and something rang a bell for me in that about saying yes to things, because I think a lot of people think about things and I am not sure that is a good idea."