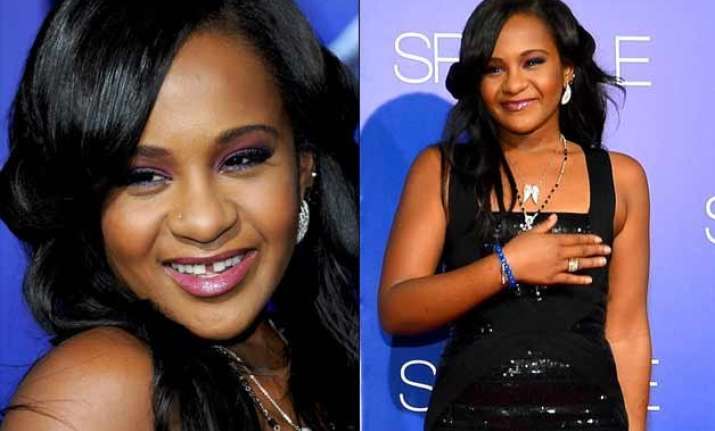 Los Angeles: Talk show queen Oprah Winfrey, filmmaker Ava DuVernay and Kylie Jenner among others paid tribute to Bobbi Kristina Brown, following her death at the age 22.
Bobbi Kristina died on Sunday at Peachtree Christian Hospice in Atlanta, Georgia, nearly six months after she was found unresponsive in a bathtub of her home. Winfrey, 61, who had interviewed Bobbi Kristina following her mother Whitney Houston's passing, wrote, "Peace at Last #BobbiKristina."
DuVernay tweeted, "She seemed to be caught in the web of celebrity upon arrival. Twenty two years. A sad end. May the sister have peace now. #BobbiKristina."
Reality TV star Kylie paid tribute saying, "Rest in peace #BobbiKristina. Got a chance to hang out with you once and I'll never forget it or you! Ugh this is so sad."
Among other Hollywood A-listers, Missy Elliott, Janet Mock, and Taraji P Henson also shared their messages via social media offering heartfelt tributes.
"My heart is truly heavy. May you rest in peace with your mommy #BobbiKristina sending prayers to the Brown/Houston family," Missy Elliott wrote.
Transgender advocate Janet also shared a similar message, "Rest well with your mama. #BobbiKristina."
"Empire" star Henson said, "Rest in heaven #BobbiKristina."
"RIP #BobbiKristina My deepest sympathies to your father #BobbyBrown and your GrandMa #CissyHouston We will miss you for sure darling," actress Vivica A Fox tweeted.
TV personality Patti Stanger wrote, "Just heard the sad news on #BobbiKristina has passed away. I hope she RIP and reunites with her mom #whitney may they fly with the Angels."
The Houston family released an official statement regarding the passing of Bobbi Kristina on Sunday.
"Bobbi Kristina Brown passed away July, 26 2015, surrounded by her family. She is finally at peace in the arms of God. We want to again thank everyone for their tremendous amount of love and support during these last few months," her family said in a statement.
The only child of Bobby Brown and Houston died six months after she was found unconscious in a bathtub.
The aspiring singer was placed in a medically-induced coma on January 31 after she was discovered face-down in the water-filled tub at her townhouse in Roswell, Georgia.
She was later transferred to Peachtree Christian Hospice, where her family and loved ones maintained a bedside vigil.