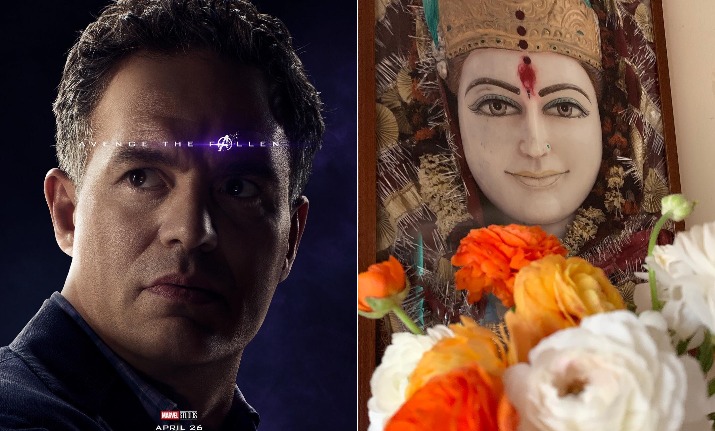 Avengers: Endgame is gearing near. The last film of the Avengers franchise presented by Marvel Studios is all set to hit the theatres across the world on April 26. Ahead of the big release, the star cast of the film including Robert Downey Jr., Chris Evans, Chris Hemsworth, Mark Ruffalo, Scarlett Johansson, Paul Rudd and Brie Larson get busy promoting their film on various platforms including chat shows like The Tonight Show and Jimmy Kimmel Live. While they wait for their big release, Mark Ruffalo who plays the Hulk aka Dr Bruce Banner in the superhero franchise, shared a picture of a Hindu God in his Instagram story. It was an invite for a meditation event which Ruffalo is supposed to be attending. It had the message, "Full Moon Group Meditation on April 18th and 19th. If you cannot join us in Las Vegas or Los Angeles please begin your meditation and join our meditation at 7:30 pm to encourage peace and unity."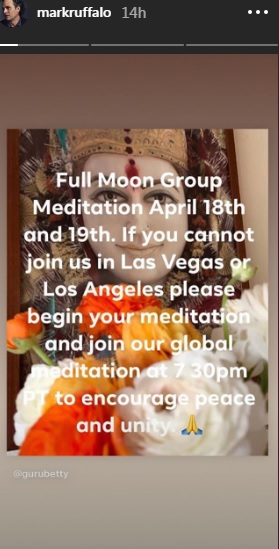 Mark Ruffalo also tagged his meditation guru 'Guru Betty' in his Instagram story. The actor has turned to meditation to calm his senses down while he works day and night for his film Avengers: Endgame promotions. The actor has been a follower of meditation for some time now. He practices meditation to keep himself on the track during his busy schedule. While talking to Rolling Stone, he once said, "It's pretty much a daily practice that quiets your brain and oddly enough, actually slows down time, so you're not so much trapped in your immediate reactions to things. And everything changed. My work started to change, my luck started to change. The way the world looked to me changed. Like, with all the crazy shit going on in the world, I actually have an enormous amount of hope." 
Avengers: Endgame, which is the fourth and final part of popular Avengers franchise is scheduled to release on April 26. It stars Chris Evans, Brie Larson, Robert Downey Jr., Don Cheadle, Mark Ruffalo, Chris Hemsworth, Gwyneth Paltrow, Scarlett Johannson and others in the lead role. In the last film Avengers: Infinity War, many superheroes including Winter Soldier, Scarlet Witch, Black Panther, Star Lord, Gamora and others have been decimated by the super-villain Thanos.