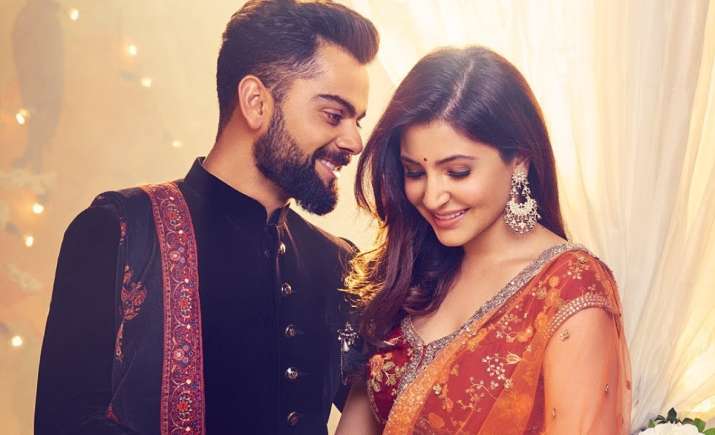 Anushka Sharma and Virat Kohli are definitely one of the most talked-about celebrity couple in India and we're never short of reasons for it. In fact, Virat Kohli is often sashayed as the 'ideal boyfriend' by millions of young girls. The candid and basic manner, in which he talks about his lady love Anushka, has been winning hearts for a while. It seems that the Indian skipper is on a heart-winning spree now. After talking about his beau Anushka in an interview with Aamir Khan, he spills beans on how she kept him motivated through his tough times.
Virat Kohli has recently made an appearance on friend Gaurav Kapur's chat show Breakfast with Champions. In the interview, he talked about his personal life, cricketing career and love life at lengths. He revealed how Anushka Sharma made him a better person, by giving him lessons on 'tehzeeb' (manners).
He says that Anushka has made him a better person in the four years they have been dating. Read what he said while speaking about his 'lady luck'.
"Sir lady luck ka kamaal hai (It's the magic of Lady Luck). You've seen me; you know I had no brains before. Ever since the lady has come into my life, she's taught me a lot of things."
"I've learnt a lot, become more sensible in the last 4 years all because of her. She's taught me how to be more patient and taught me how to utilise the position you are in to the fullest,"
Kohli has always brazenly admitted that Anushka Sharma stood by him in both good and bad phases of his life. In 2014, when he was having the worst time of his career, she stood by him.
"Luckily I have never tried to change myself over the years. But the flip has been because of her. That period in England in 2014. Anushka was there in my life, she understood what I was going through so she kept me motivated," Virat Kohli said while recollecting the memoirs of his 2014 England tournament.
"Her support helped me push through, however bad it was for me. She was a constant in that time... And then Australia happened (the tour in 2014-15 when Kohli scored four hundreds in four Tests) and I ended up scoring runs, in her presence. So it was a special thing for both of us because she also faced a lot of flak."
He also told that it was for Anushka Sharma's advice that he tries to stay away from social media as much as possible.
While talking about his equation with Anushka Sharma, he also condemns the way people criticised when Anushka accompanied him on a tour.
"We were being criticised and people were saying this is what happens when you allow girlfriends on the tour. I thought, "if you don't think this is right then no one can be in a relationship". According to you all - either get married or remain single. How can that be?"
Virat and Anushka has always been open about their relationship with their fans. He credits former cricketer Zaheer Khan for his golden relationship advice. As told by Kohli, Zaheer advised him to be open about his relationship or remain single.
"A very big reason behind me not hiding my relationship is Mr. Zaheer Khan. Luckily he was one of the first guys I spoke to about this and he said whatever you do don't try to hide it because you'll stress yourself. And on top of that, you're in a relationship; you're not doing anything wrong. I'm actually very grateful that my first interaction about this was with Zak."
Recently, in an interview with Aamir Khan, Virat Kohli revealed the nickname he used for Anushka Sharma. This left all the 'Virushka' fans drooling over this mushy nickname Kohli has for his girlfriend.