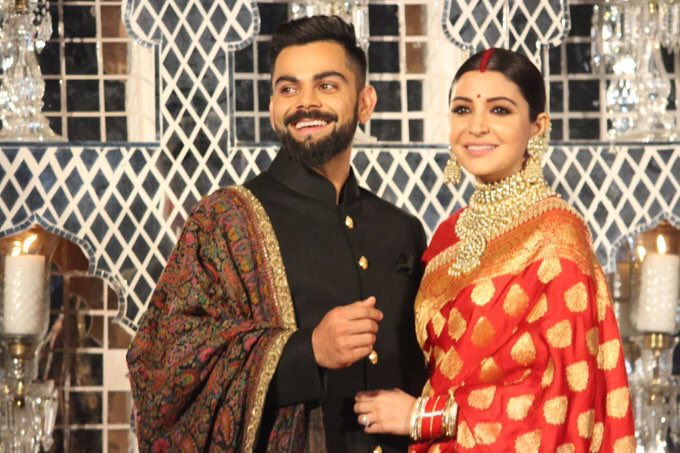 Virushka is everybody's favourite topic of discussion. Don't call yourself a cricket or Bollywood fan if you're not excited to get every minute detail of this whole Virushka affair. But this love for the powercouple Anushka Sharma-Virat Kohli went another level when they became trolls and meme's favourite subject. Just like Virushka wedding pictures made perfect bait for online trolls, Virushka wedding reception pictures were no exception. Here in this post, we've compiled some of the best Virushka memes we come across after last night's reception.
#Breaking: Delhi CM Arvind Kejriwal burns down marriage certificate of #Virushka after they forgot to invite him on their wedding reception. pic.twitter.com/EG3YLAsnTC

— The UnPaid Times (@UnPaidTimes) December 22, 2017
Ye cameraman ne apna camera aadhar card se link nahi kiya hoga isliye modi ji is taraf nahi dekh rahe#Virushka pic.twitter.com/hUlV2Tc3ZZ

— Sanju Singla (@SingleSingla) December 22, 2017
@imVkohli you are one of those lucky guys who didn't have to clean their beard to get married (north Indians can get this) #Virushka #VirushkaWEDDING #VirushkaReception

— Nav Rishi Mahajan (@rishi_nav) December 22, 2017
ये लाजपत नगर वाली आंटियां माउंट एवरेस्ट जितने बड़े जूडे बना आती ... फिर जानबूझकर फोटोग्राफर के सामने से निकलती 😂😂 pic.twitter.com/pIHygeReUW

— Fussy Kisaan (@Fussy_Ca) December 21, 2017
Selling Anushka's necklace can solve the hunger problem in Africa. pic.twitter.com/nmBoyLsAv4

— Pakchikpak Raja Babu (@HaramiParindey) December 21, 2017
manyavaar ki ad hai ya reception. seriously confused. pic.twitter.com/8k28kepxk7

— Singha (@heisenjit) December 21, 2017
Virat Kohli and Anushka Sharma at their reception were nothing like anything you saw before. The new bride Anushka Sharma was seen dancing madly on the song 'Mauje Hi Mauja' with cricketer
Shikhar Dhawan
. How often do you see a bride clad in a saree and dancing like nobody's watching?
And here comes dulhan❤❤😍😍 #Virushka pic.twitter.com/PVee65jH3C

— Sara (@Virushka__folyf) December 22, 2017
Virat Kohli also seemed to enjoy his special day to the fullest. He's the happiest groom in the world. And why shouldn't he be? After all, the love of his life has finally become his lawfully wedded wife.
Watch how Virat Kohli burned the dance floor on his own wedding reception.
Watch: #Virat burn the dance floor with his epic bhangra on the night of their reception@AnushkaSharma @imVkohli @gurdasmaan #virushka pic.twitter.com/brUyzwqq7Y

— Amandeep Singh (@journoaman) December 22, 2017
Virat Kohli and Anushka Sharma exchanged wedding vows in a remote village of Tuscany on December 11. Only close friends and family members were invited to the hush-hush wedding. The pictures from their dreamy Tuscan wedding are still doing rounds on social media. On December 26, the couple will be hosting a wedding reception for their industry friend who weren't able to attend the Delhi reception due to work commitments. After that, they will be headed to South Africa where they will usher in the new year together. 
It feels great when people from all over the country get united to celebrate the wedding of this beautiful couple.
Not a movie that is a hit, not a cricket team win-
But The Victory Of Love! #Virushka pic.twitter.com/ggQQKllHVr

— Evangeline (@Evangeline2295) December 12, 2017
Her best friend and bridesmaid Kanika posted this pic on Instagram 😭😭😍😍 #virushka pic.twitter.com/Rg4MQUC9C4

— Shimaa (@cinephile93) December 12, 2017