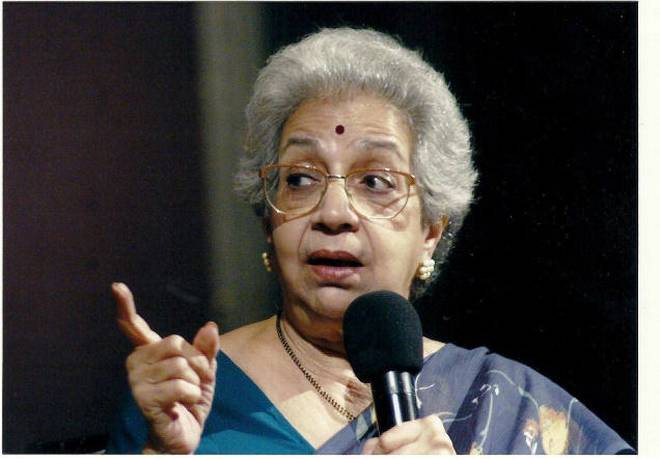 Renowned veteran film and theatre director Vijaya Mehta will be honoured with the Lifetime Achievement Award at the upcoming Mahindra Excellence in Theatre Awards (META) Festival, for her contribution towards the current film and theatre scenario.  Mehta, who founded the theatre group Rangayan with famous playwright Vijay Tendulkar and actors Arvind Deshpande and Shreeram Lagoo, is known for introducing Bertold Brecht and Eugene Ionesco into Marathi theatre. 
"Her decision to step out of the normal scope of theatre made her a leading figure in the experimental theatre of the 60s," Jay Shah, Cultural Outreach, Mahindra & Mahindra Ltd, said at the annual event announcing the 13th edition of the META awards. 
Mehta's style of creating something "out of the ordinary" contributed a lot to the current film and theatre scenario, he added. 
Previous recipients of the award include Zohra Sehgal, Badal Sarkar, Khaled Chowdhary, Ebrahim Alkazi, Girish Karnard, Heisnam Kanhailal, Ratan Thiyam and Arun Kakade. 
The announcement comes ahead of the week-long META Festival to be held from April 13 at Kamani Auditorium and Shri Ram Centre here, where 10 shortlisted plays will be performed for jury members as well as theatre lovers. 
The plays in Assamese, Bengali, English, Hindi, Kannada, Malayalam and Manipuri as well as a non-verbal movement theatre production, will explore the subjects like gender identity, the machinations of the entertainment industry and how they treat their female leads, the politics of religion and the religion of politics, the brutality against women by the Japanese imperialist army during World War II, reinterpreted Greek tragedies, German philosophy revisited and the flamboyant playing style of veteran Colombian goalkeepers.
(With PTI Inputs)