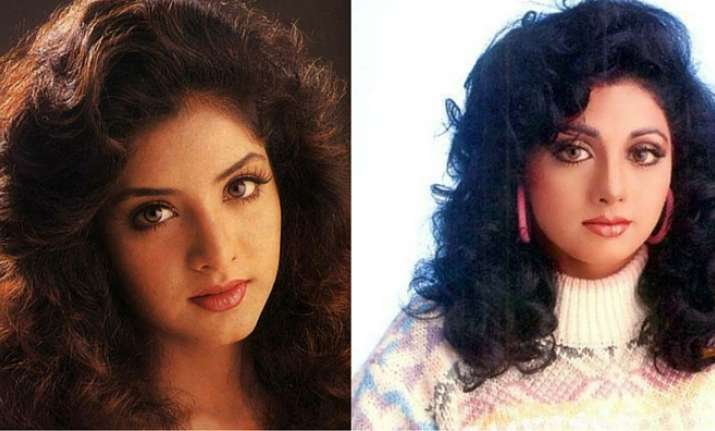 With the sudden death of the versatile actress Sridevi, the entire nation has been engulfed in grief. And her demise has also reminded us of the mysterious death of the popular actress of 90s Divya Bharti. 
Sridevi's untimely and unfortunate demise has not just left her fans but the entire film industry in a state of shock. The MOM actress was in Dubai to attend the wedding ceremony of Mohit Marwah when she died due to a cardiac arrest due on Saturday night. 
Notably, the gorgeous beauties Divya Bharti and Sridevi were often compared to each other. And it was also said that Divya can replace Sridevi due to her identical looks. Due to their striking resemblance with each other, Divya was also tagged as younger sister of Sridevi. And Sridevi's untimely demise has brought a similar shock to the nation as it was in case of Divya.
And now fans have found one more reason to link the loolalike divas Sridevi and Divya. Notably, Divya's birth anniversary falls on February 25, just a day after Sridevi's shocking death day. 
Divya died on April 5, 1993, after she met with a tragic incident and fell off her balcony drunk state. And that time, Divya was working in the film Laadla. And due to her untimely death, The shooting of Laadla was halted and co-incidently, filmmakers later roped in Sridevi for the same project. 
And Sridevi became the lead actress of Laadla which also featured Anil Kapoor and Raveena Tandon. 
Also Read: Sridevi's last moments in Dubai hotel room: Actress was getting ready for a dinner date with husband Boney Kapoor
​Also Read: RIP Sridevi: Swara Bhaskar, Anupam Kher, Karan Johar, Shabana Azmi and other celebs gather at Anil Kapoor's residence
Interestingly, Sridevi and Divya were considered as replacement of each other at that time.