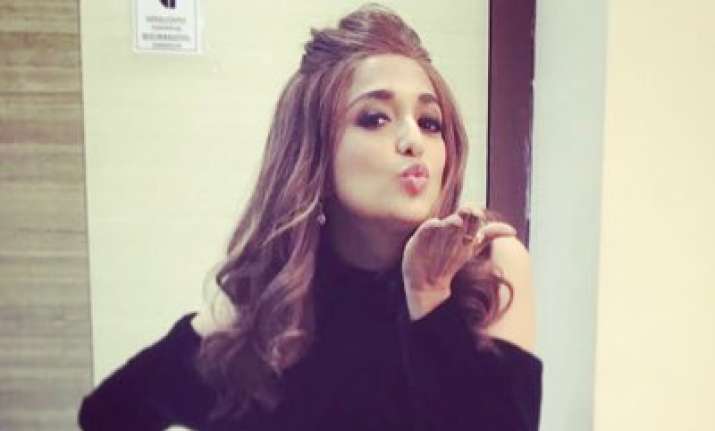 Monali is part of global music video "On Top of The World" that is aimed at creating awareness about clean energy solutions. The singer has joined hands with other international singing stars including Oscar-winner Jennifer Hudson and British singer Pixie Lott.
Music video is the next chapter of #makethefuture campaign on clean energy initiatives by Shell, an international oil company in India's energy sector.
"On Top of the World" features five global music artists -- including Brazilian singer Luan Santana and Nigerian music star Yemi Alade -- and uses cutting-edge custom animation to help each star demonstrate the impact of clean energy projects supported by Shell around the world, including Brazil, China, the US, Kenya, India, Germany and the UK.
Monali has lent her melodious voice to promote Shell's gas collaboration in Gujarat, providing cleaner cooking option with piped natural gas, combating indoor pollution, and empowering women by reducing the time they spend in the kitchen -- a time they can allot to exercise their basic right to education and employment.
"I am actually proud and feel happy that I am able to be part of this campaign. I always worry a lot about increased pollution level and where the earth and planet are actually heading towards. Now to be able to part of this campaign through this music video and as a artist, I will be able to serve the purpose of creating awareness," the singer said. 
"Also its important to take care of your health as we need to be healthy to be able to bring about any change. One of the biggest problems in India is that a majority of the women are burning wood and all the harmful forms of energy to cook food and while doing that, they are inhaling unhealthy gas and air,'' she said.
"We need to create awareness and that's the major purpose of this campaign through music video," she added.
Monali said that entertainment industry has huge impact on people.
"Music is a beautiful medium of expression and communication. When artists raise this issue together from different parts of the world, it creates impact. You reach more people through this medium," said the singer.
The music video also aims to entertain and educate viewers on five clean global energy initiatives -- for instance, Insolar, that provides solar energy access to low-income communities in Brazil; GravityLight, to create sustainable and cleaner light for families and children in Kenya; Clean Cookstoves, that brings clean cook stoves to families and creating healthier homes in China; and Hydrogen for creating cleaner transport fuels for the future in US.
"On Top of the World" is the latest chapter in the #makethefuture global energy relay, that began in 2016 with the launch of the "Best Day of My Life" music video, which subsequently topped viral video charts and became one of the most viewed online videos of the year globally.
(With IANS Inputs)