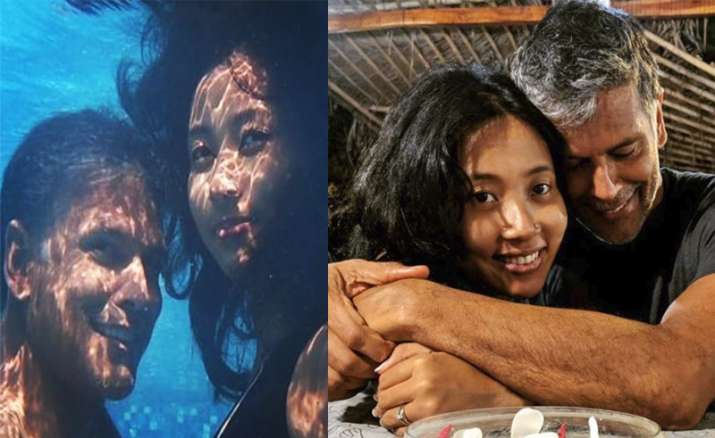 The multifaceted personality Milind Soman, who is a model, actor, fitness promoter and a film producer, and also known as the dream man of every girl, broke many hearts by getting hitched to his long-time girlfriend Ankita Konwar recently. Milind and Ankita tied the nuptial knot in a private ceremony in Alibaug last month. And the couple is seen as the most special pair in the glam world as they even defied the age factor and are happily married now. 
The fit and fab couple make a perfect pair and their social media posts depicts about their forever and refreshing bonding. 
Soon after getting married, Milind shared a pic together with a unique caption which read as, ''Nurture the gifts you have received planting a tree with @earthy_5for every guest, 11 done! #everydayisEARTHday#celebratenewbeginings #everyday#BetterHabits4BetterLife at @bohemyanblue #love #life #earth#friends #family.''
In the pic, newly-wed Milind and Ankita were seen doing tree plantation together. And this act of the couple make them different from others. 
The fitness freak Milind in his second social media post after marriage was seen completing his first 10 km run with his wife. ''First 10k run with my wife @earthy_5 #sautakashaadishuda#Fitterin2018 #BetterHabits4BetterLife,'' wrote Milind captioning the picture. 
After doing tree plantation with his better half, Milind had an underwater experience with his wife Ankita. ''First time underwater with @earthy_5  #Fitterin2018#Fitwomen4fitfamilies pic: @dahiya_vinay,'' wrote Milind sharing this picture.'' 
The newly-wed couple were also spotted spending some quality time in Guwahati and they also shared a pic with a caption which read as, ''Post run in Guwahati! #jetyaiPARAtetyaiDAURA #Gamusalove.''
Here are few more selfies of the couple: