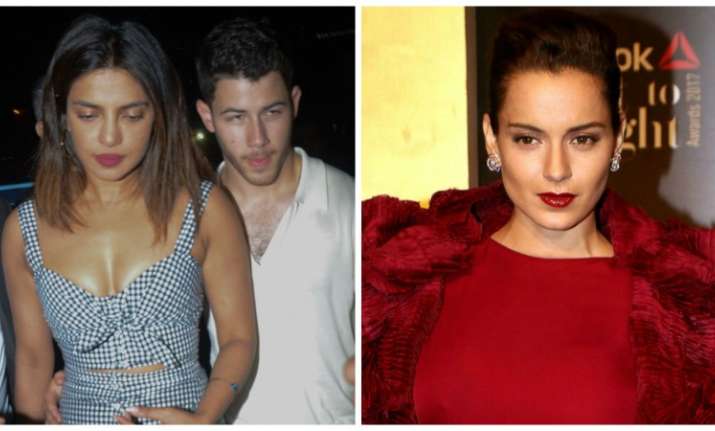 At a time when Priyanka Chopra and Nick Jonas haven't made their engagement official yet, actress Kangana Ranaut might have just spilled the beans. The Manikarnika actress revealed that the 'Baywatch' star is "extremely excited and happy" post the engagement. At the recently held Vogue Beauty Awards 2018, Kangana was asked if she was looking forward to the 36-year-old's wedding, to which she replied, "I spoke to Priyanka the other day and I congratulated her. She seems excited and very happy."
"If such an event is taking place, I would love to celebrate with her because she is lovely and deserves all the happiness. She is a very close and a dear friend. I get very happy and excited about weddings and engagements," added Kangana.
When asked if Priyanka confirmed the wedding date to her, Kangana said, "Not to me".
The news of the couple's engagement came after Bollywood director Ali Abbas Zafar said that Priyanka opted out from his upcoming flick 'Bharat' in the 'Nick' of time, owing to a very "special reason".
If the reports are to be believed, Priyanka Chopra and Nick Jonas have already exchanged the rings and they might be a happily married couple by Nick's 26th birthday which is in September. The American singer popped the question on Priyanka's 36th birthday earlier in July. They celebrated the day together in London. Nick even reportedly shut down a Tiffany store in New York to find the perfect rock for his love.
Talking to a leading daily, Nick Jonas opened up on Priyanka Chopra and told, "We met up like in New York the first time and the same day I think we found out that we are both going to the Met Gala with Ralph Lauren. And as strange as it sounds but we couldn't have planned it. We just had a great time. She's a lovely person."