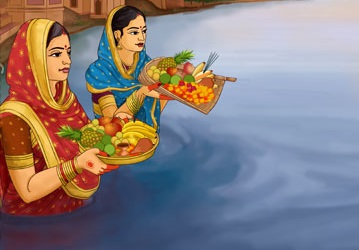 In 2016, the Chhath song Pahile Pahil Chhati Maiyya took the internet by storm. Sung by legendary folk singer Sharda Sinha, the song was a huge hit across the internet. Now, Champaran Talkies. NeoBihar and JaiOM Productions have teamed up for a new song titled Kabahu Naa Chhooti Chhath. The song was released on Friday and, it has already been gaining much attention. Crooned by iconic singers Bharat Sharma Vyas and Alka Yagnik, the new Chhath song will take you a festive mood right away. The song was released on YouTube today. Check it out right here.
Meanwhile, Pahile Pahil Chhati Maiyya showed glimpses of the song's recording and highlights different places associated with various ingredients of Chhath festival such as soop (bamboo tray) and kela (banana). It beckons the out-stationed/diaspora to visit their native place for the festival.  Here's the viral video that won millions of hearts. 
Over the past few years, Chhath songs have flooded social media, broadening access avenues and trickling down to a tech-savvy new generation. Now, we need to wait and see whether Kabahu Naa Chhooti Chhath can manage to win hearts.
For more entertainment news and updates, follow our Facebook page