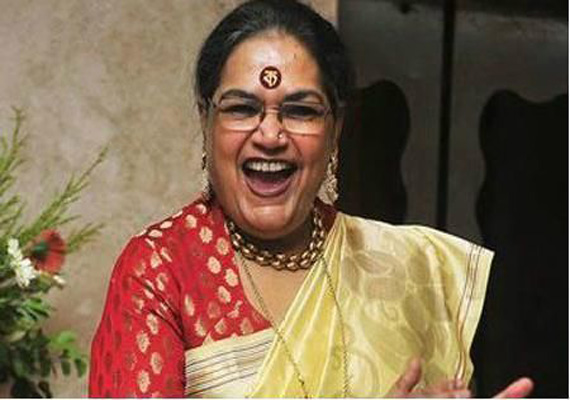 Kolkata, July 27: In a show of solidarity for the Uttarakhand victiims, thousands lit up lamps of life as Indian pop icon Usha Uthup  chanted 'Kolkata Kolkata never found wanting Kolkata' .
"We are speaking from heart. We are saying with complete honesty, we can't be just tourists to your land. You are one of us and souls have a unique way of reaching out," the 'Tobu Tumi Sundari Kato Kolkata' singer said at the 'Banchao Uttarakhand' evening attended by the whole music fraternity of the city.
With lights going out of the vast Nazrul Manch housing thousands, flickers of tiny lamps swayed to the tunes of 'Sare Jaha Se Achha' as the versatile singer waved to the crowd singing the lyric at the solidarity meet initiated by India Green Reality.
 "I  was excited. We gave away the torches to the crowd. Kolkata Will Never (Be) Found To Be Wanting when there are causes. And we are here all one, we are Indians first and foremost. I felt possessed while singing the 'Saare Jahan Se Achchha' number", Usha said. The singer, who had publicly sang the Ganesh Bandana for the first time in her life here,, said "The invocation was aimed at invoking the God before building up from the scratches again."
"I feel marvelous as I connect with the Crowd. As I chanted Ganesh Bandana they all felt so quiet. The hymns gave us the message that think before you do anything. Development cannot outpace green movement and ecology," Usha, who had been seen in
Vishal Bhardwaj
's Saat Khoon Maaf, said. Leading band and contemporary music singers and music directors  Surojit Chatterjee and Soumitro, both numero uno Bangla Band 'Bhoom'i frontmen, crooned chartbusters like Tomar Dekha Nai as the crowd went wild.
"We sing the folk numbers which smell the rain-swept earth. Bhoomi stands for environment, for the green mountains and streams. The tragedy that befell 'God's own land' Uttarakhand is a wake-up call for all of us. Don't plunder Nature," Surojit said expressing hope that any future solidarity meet will now attract lakhs.
Cactus frontman Sidhu said "Amazing that thousands attended the show despite Bollywood king
Shah Rukh Khan
in other part of the town. Kolkata has a bigger heart undoubtedly than other metros. In a way Haridwar and Howrah have come together."
The whosewho of singing fraternity - ranging from Rupankar, Manomoy, Raghab Chatterjee, Anindyo Bose of Sahar band, to Haimanti Shukla - all chanted 'Bachao Uttarakhand' as the evening folded up with a re-synchronised 'Jana Gano Mano'. "We wanted to primarily support the victims. Currently the greatest need remains financial donations for immediate relief efforts and by turning up for the evening music aficionados have generously chipped in for a cause which will help the kins of real life  Armageddon," Amitava Samanta of India Green, prime mover of the initiative, said.