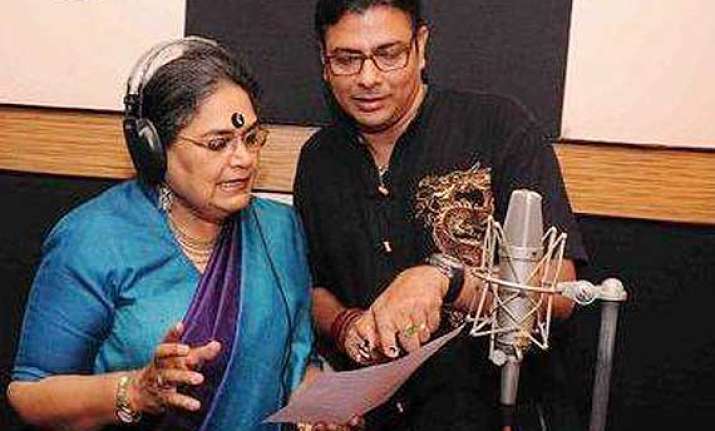 Kolkata,  Lending her voice to Bengali children's cinema for the first time, Indian pop icon Usha Uthup now sings a title track in 'Gogoler Kirti', the 80s' child sleuth immortalized by writer Samaresh Basu through ages.
Contemporary Bengali music frontman, Surojit Chatterjee, the music director of the film, sings together with 'Ushadi' and affirms, "We will hear from Usha Uthup in Bengali cinema for first time."
 "Yes it is a refreshing feeling. This is a fun track in Bengali and I also gave some suggestions," Usha, whose 'Hari Om Hari' swooned the youth in 80s said when contacted.
"There is a Sholay-type dialogue in between the tracks of the theme song Go Gogol and it was Ushadi's suggestion at today's recording. And it merged magically with the track. Ushadi worked under my music direction for the first time and she is a legend having worked with all the big names in the country," the Bhoomi leadman and 'Surojit O Bondhura' singer said.
"Several years back I had made her sing on small screen. But don't know why people did not use her versatility for the big screen in Tollywood," Surojit said. "Ushadi will be seen lip-syncing the tracks in her trademark style on the left side of the screen as the credits roll," Director Pompi Ghosh Mukherjee says about her debut work.
Based on Samaresh's popular Gogol fiction 'Mahish Mardini Uddhar and Rai Raja Uddhar', the film unfolds with a 'sabeki' puja in a Bengal village, where all members of the once-royal household assemble during that time of year and Gogol will take us back to the time when joint households were in vogue, Pompi said.
"Gogol is in a way the younger version of Feluda who is gadget savvy, knows mob applications, has contemporary tastes and upbringing but still loves to be in a joint family and calls its members 'pisi-na kaka-didibhai-chhotomama etc. He never uses a tab but sharpens his 'magojastro', 
 "There had been a void in children's film in the mainstream category. A film which will remind our children about our Bengali identity, our love for addas, food and the family values. I wish my daughter gets to know about the exploits of Gogol," Surojit said. Indraneil Sengupta essays Ashok Thakur, the sleuth friend of Gogol.