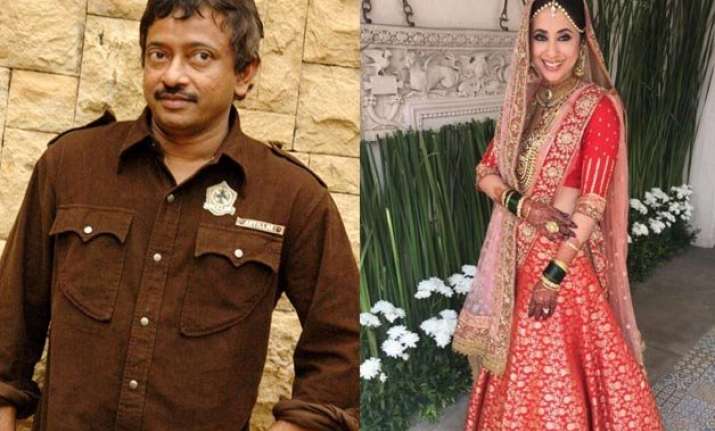 New Delhi: Ram Gopal Verma has been making to the news these days, however, for all the wrong reasons.
The director, who is somehow loosing his charm in the industry, recently took a dig at actress Sunny Leone.
RGV, in a series of tweets, questioned Sunny's honesty and even went on to compare her with American presidential candidate Donald Trump.
While Sunny paid no heed to his rants, he once again raised a lot of eyebrows with his latest tweet about his ex-girlfriend Urmila.
The 'Rangeela' actress Urmila Matondkar married her Kashmiri boyfriend Mohsin Akhtar Mir in a low profile wedding on Thursday.
The diva not just kept her wedding a hush-hush affair but didn't invite any celeb from the B-town either except her best friend Manish Malhotra.
Ever since the news of her wedding broke, celebs and people around are wishing Urmila for her new life.
Amidst, all the messages, what caught our attention is a 'special' message by Urmila's ex-flame Ram Gopal Verma.
RGV, took it to Twitter to wish the newly-wed bride as he tweeted, "Extremely happy to hear news about the most beautiful actress I ever worked with..I wish from heart that her life wil b "Rangeela" forever".
Interestingly, Ram Gopal Verma had earlier stated that his biggest problem with Urmila was that he could not accept her as a normal human being.
"I don't know how this may sound, but my biggest problem with Urmila on a personal front was that I just couldn't accept her being an ordinary human being. I know that is a very unrealistic expectation from any woman but then you have to understand that I am a very filmy person. She was, in person, a simple sweetheart but I, very selfishly, always wanted her to be larger-than-life even in real life," RGV was quoted saying.
Urmila and RGV have worked together several times and have given many hits like 'Rangeela', 'Drohi', 'Bhoot', 'Kaun' etc and the director has time and again proved how mesmerised he is with Urmila's beauty and charm.