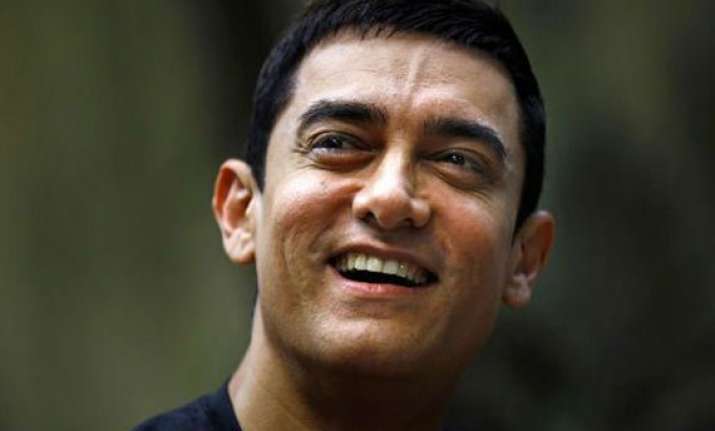 PK hai kya? – Probably the most apt question to be asked to all the 'self acclaimed protectors' of Hinduism wandering everywhere to ban PK and its screening.
Aamir Khan starrer PK is all hit and successful and probably this is something irking the 'elite' believers of God in the nation. Facing flak for its content over mocking Hindu Gods and ideologies, PK is the latest victim of a scrutinized set up of secularism in India.
PK is hilarious and logical if you have watched it; and perhaps it is one of the rare examples of an appropriate usage of cinema in our country.
A man who doesn't belong to our land, who is not one of us is asking about the justification of myths and folklore we inherit regularly in our lives; and in spite of thinking rationally, all we are worried about is that it will erode the significance of 'Hindutva' from the minds of youth. Oh really? Is our faith in our God or the 'Gods of our Godmen' so palpable to be shaken by a mere three-hour-celluloid-activity?
Or may be these protectors of religion are furious over how an alien can question them?
Initially, there were a few rigid right wing leaders of Bajrang Dal and VHP opposing the screening of the film. Then Yoga guru Baba Ramdev filtered in by discarding the film.
And the latest to have unexpectedly given us hilarious jives is Subraniam Swamy. A single tweet of this man has created a stir that even comedy king Kapil Sharma and his punches cannot.
 
"Who financed the 'PK' film? According to my sources it is traceable to Dubai and ISI. DRI must investigate." – tweeted Swamy. And after the tweet, social media is a buzz with posts mocking at the leader's thoughts.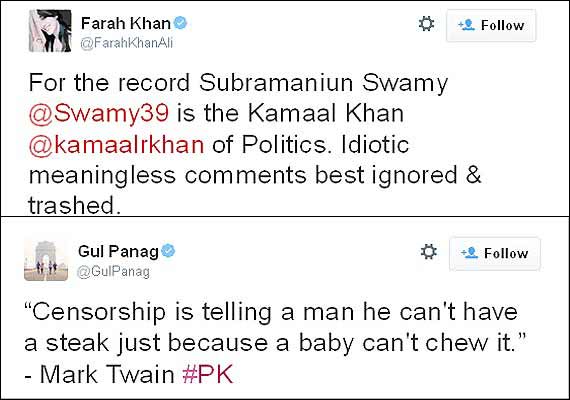 Cinema is nothing but a creative mirror of society in which we are living. And if a man who is part of this similar society feels the urge to ask a few questions through the form of cinema, we think he is taking advantage of cinematic liberty? Why? Can't we simply answer him or even if we do not want to, can't we find a non-fussy way and have a healthy discussion over it?
And just to add a reminder, we have now an official organization launched by more than 100 lawyers in the country named 'Hindu Legal Cell' to tackle issues perceived as insults and threats to the faith and religious sentiments of Hindus.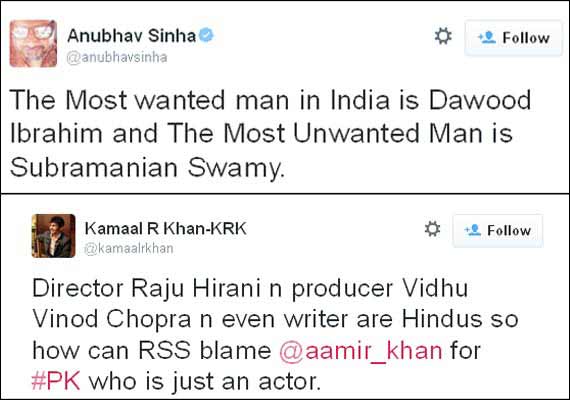 And who are these people to deem that there is a threat to Hindu youth from Rajkumar Hirani's PK? Well, if you are crediting us as youth, then we must be enough smart to decide ourselves what is watch-able and what's not?
PK has already crossed the mark of Rs. 200 crore in India and that alone shows how much Indian moviegoers have liked it. Just to defy more, the fact that these moviegoers include most of the youth section that further constitutes most of the Hindu youth, should satiate the longing desires of the ones opposing PK.
Unfortunately, if an alien actually happens to be in our country, he will surely go back to his land and say 'Gaye the ek baar India, badi hi lull jagah hai!'